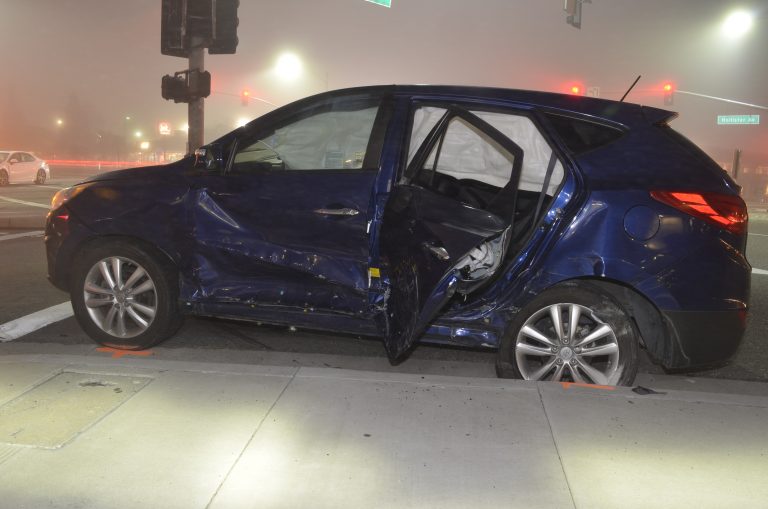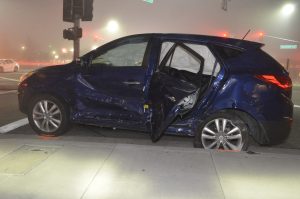 At approximately 1:20 a.m. this morning, March 30, 2018, one person was killed and four others were injured in a two-car collision that occurred in the City of Goleta.  The collision, involving a blue Hyundai Tucson and a white Toyota Camry, occurred at the intersection of Hollister Avenue and Storke Road.  The Hyundai was westbound on Hollister Avenue and the Toyota was northbound on Storke Road when both vehicles entered the intersection and collided.
The driver of the Hyundai was a 33-year-old Ventura resident working as an Uber driver.  There were two passengers in the Hyundai, an 18-year-old male and a 19-year-old female, both of which were foreign students living in Santa Barbara.  The 18-year-old male received medical treatment at the scene for minor injuries, while the female was transported to the hospital with life-threatening injuries.  The female was pronounced dead at the hospital shortly after arrival.  Both passengers in the Hyundai were not wearing seatbelts and the female had been ejected from the vehicle. Her name is being withheld until next of kin is notified.
The Toyota was driven by a 24-year-old female Riverside resident, with a 16-year-old female resident also from Riverside and a 19-year-old male from Los Angeles as passengers.  The driver and one passenger received minor injuries, while the other passenger was uninjured.
The Santa Barbara Sheriff's Major Accident Response Team is investigating this collision and working to determine which driver ran the red light.  Alcohol and drugs are not believed to be a factor and both drivers are cooperating with the investigating deputies.  Anyone with information regarding this collision is asked to call Senior Deputy Jeff Farmer at 805-961-7514.
Senior Deputy Farmer who is the lead investigator in this case said, "This collision is a sad reminder of the importance of wearing seatbelts.  In this case, it would have been life-saving."
###