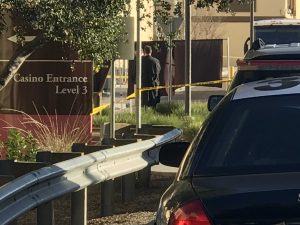 At approximately 2:15 a.m. this morning, February 20, 2018, the Chumash Casino Security Dispatch called the Santa Barbara County Public Safety Dispatch Center to report that two of its Chumash Security Investigators were in an altercation with a male subject and needed assistance.  Shortly after, there was a report of shots fired.  When deputies arrived at the Chumash Casino Resort located in the 3400 block of E. Highway 246, they determined the male subject had been fatally injured during an encounter with a Chumash Security Investigator behind the building near a parking structure.  Personnel from American Medical Response, the Santa Barbara County Fire Department and California Highway Patrol responded as well.  The male subject was pronounced dead at the scene.
The Sheriff's Forensics Unit is processing the scene and the Sheriff's Criminal Investigations Division is conducting an investigation to determine the circumstances surrounding the incident. The Sheriff's Coroner's Office is conducting a death investigation to determine an official cause and manner of death.
The identity of the decedent will be released once next of kin have been notified.  The identity of the Chumash Security Investigator involved in the shooting is not being released at this time due to the active investigation.  We will provide an update as soon as we are able to release more information.
The Sheriff's Office is requesting anyone with information regarding this incident, to call the Sheriff's Criminal Investigations Division at 805-681-4150.  To leave an anonymous tip, please call 805-681-4171 or go to https://www.sbsheriff.org/home/anonymous-tip/.