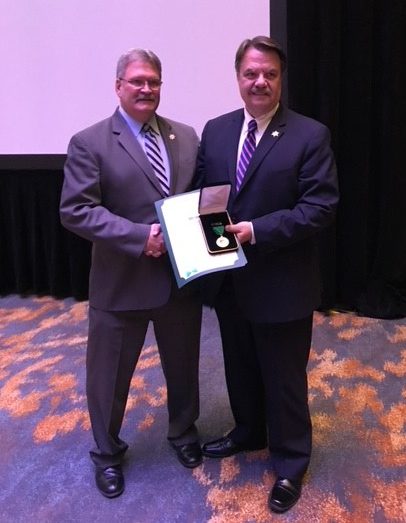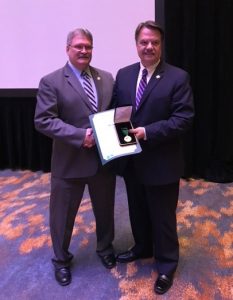 Santa Barbara County Sheriff Bill Brown awarded Senior Deputy Michael Durant, the prestigious Distinguished Service Medal, at the 65th annual Peace Officers Research Association of California's (PORAC) Conference of Members.
Senior Deputy Durant's career with the Santa Barbara County Sheriff's Office spans more than 30-years. He was assigned to patrol, field training, investigations, custody and transportation. Senior Deputy Durant also worked as a K-9 handler and served as our agency's public information officer. Senior Deputy Durant was first elected to the Peace Officer's Research Association of California Board of Directors, representing the Tri-Counties Chapter, in 2003. In 2005, Senior Deputy Durant was elected Vice President of PORAC. As Vice President, he put his public-relations skills to good use promoting the recruitment and retention of local law enforcement associations and members into the PORAC ranks.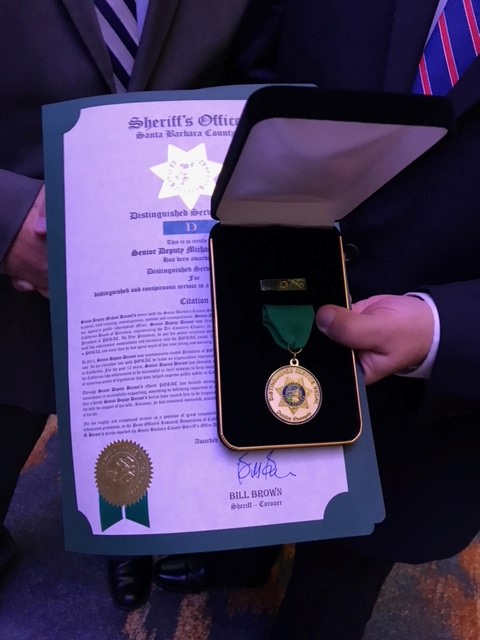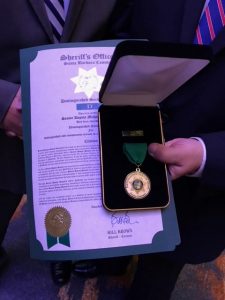 In 2007, Senior Deputy Durant was placed on full-release to PORAC and since then he has spent much of his time living and working in Sacramento. In 2013, Senior Deputy Durant was unanimously elected President of PORAC, and he has served continuously in that position until now. In his executive role with PORAC he leads an organization representing more than 70,000 peace officers, the largest of its kind in California.
For the past 12 years, Senior Deputy Durant has educated state and federal legislators about the necessary tools for California law enforcement to be successful in their mission to keep communities safe. He has played an integral part in the passage of numerous pieces of legislation that have helped improve public safety in California and throughout the nation.
Through Senior Deputy Durant's efforts, PORAC has formed strong alliances with other major California law enforcement associations in successfully supporting, amending or defeating important or controversial law enforcement-related legislation.
Senior Deputy Michael G. Durant was awarded the Santa Barbara County Sheriff's Office Distinguished Service Medal, for his lengthy and exceptional service in a position of great responsibility, and for his many contributions to California's law enforcement profession, to the Peace Officers Research Association of California, and to the Santa Barbara Sheriff's Office.
Senior Deputy Durant stated he was honored and humbled to not only receive such a prestigious award from the Santa Barbara County Sheriff's Office, but also to serve the members of PORAC and the citizens of Santa Barbara County.
####