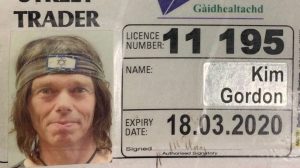 Today, the Santa Barbara Sheriff's Office received numerous calls reporting the possible sighting of Scottish Fugitive "Kim Gordon" in the Santa Ynez and Lompoc Valleys. Kim Gordon is wanted in Scotland for rape and sexual assault, and reportedly went missing in Monterey County, Ca. earlier this month.
San Luis Obispo County received similar "sightings" shortly after Gordon's disappearance only to find the man reported as Kim Gordon was merely a handy-man soliciting work. Today, Santa Barbara Sheriff's Deputies investigated each reported sighting, including reviewing video surveillance, only to determine that the reported sightings were not Kim Gordon. It is possible that the same handy-man soliciting service in San Luis Obispo County is also soliciting work here. To date, there have been no credible sightings of Kim Gordon in the Santa Ynez or Lompoc Valley's, and there is no credible information that fugitive Kim Gordon is soliciting handy-man work door to door.
The Sheriff's Office wants to remind the public to be diligent and cautious when approached at home or in public by persons soliciting work, or whom you do not know. If you are in need of work, seek assistance from a licensed contractor. The Santa Barbara Sheriff's Office takes all reports of suspicious persons seriously. We will continue to investigate any reported sightings of Gordon or the man soliciting home-repair services.