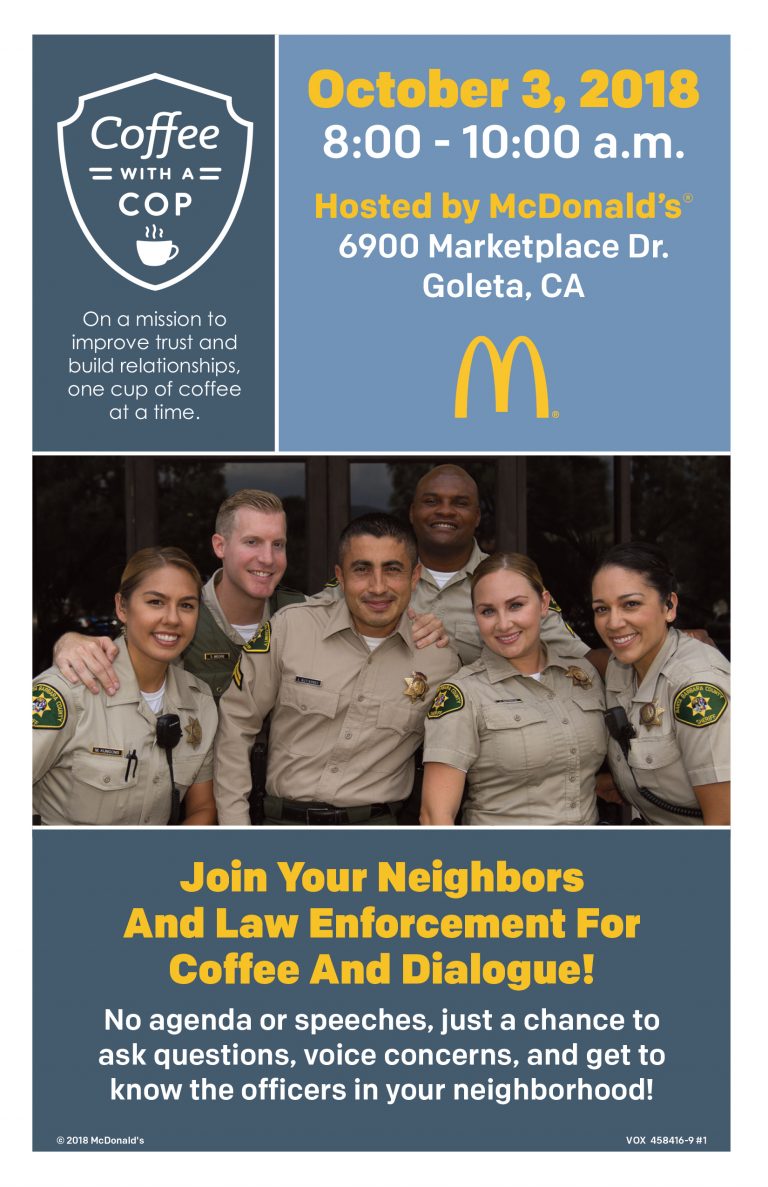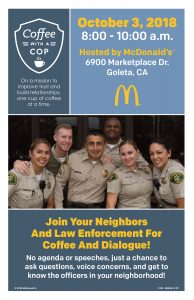 The Santa Barbara County Sheriff's Office is joining law enforcement agencies across the country in participating with "National Coffee with a Cop Day" on October 3, 2018.  Sheriff's deputies assigned to the City of Goleta will be at the McDonald's located at 6900 Marketplace Dr. from 8:00 a.m. to 10:00 a.m. next Wednesday for coffee and conversation with community members.
We hope you will join us for this opportunity to get to know some of the deputies who patrol the Goleta Valley area and who help keep this beautiful community safe. City of Goleta Community Resource Deputy Dave Valadez will be among those attending and is available to answer public safety questions and concerns from residents.
McDonald's Goleta Owner/Operator David Peterson said he is hoping for a great turnout.  He said, "Being involved in the community is the cornerstone of my business, and I look forward to hosting this event in conjunction with our local law enforcement. I hope that community members will attend this Coffee with a Cop event and feel comfortable asking questions, bringing forth concerns, or simply getting to know our officers."
McDonald's will provide coffee to anyone who is sitting and talking to deputies at this event in Goleta.
Coffee with a Cop is a national initiative that aims to advance the practice of community policing by opening communication and fostering a greater understanding between citizens and police.  The idea is to provide residents with an informal setting to meet deputies that work in their neighborhoods and talk about their concerns.  The goal is break down barriers, build lasting relationships and familiarize the public with people who are there to protect and serve them.
"Coffee with a Cop is community policing at its core. The simple act of having a cup of coffee with community members can be the first step in increasing trust and cooperation between the police and the people they serve," said former Office of Community Oriented Police Services (COPS) Office Director Ronald L. Davis.
More than 600 law enforcement agencies participated in the inaugural "National Coffee with a Cop Day" in 2016.  The Coffee with a Cop program was started in 2011 by the Hawthorne Police Department.  Since then, more than 2,000 law enforcement agencies have participated in the community outreach program. The Sheriff's Office has been holding "Coffee with a Cop" events at various locations in the county since 2013.