Wanted for WANTED FOR MURDER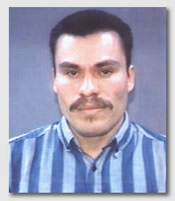 Name:
Sergio Tapia Zendejas
Date of Birth:
October 02, 1969
Complexion:
Brown Hair, Brown Eyes, Hispanic male
LOMPOC – 1998
ZENDEJAS murdered his supervisor, on 06-13-98, in the area of Union Sugar and Central Avenue, Lompoc. ZENDEJAS is believed to have fled to Mexico to avoid apprehension and prosecution.
Last Known Address:
533 N. T Street, #G
Lompoc, California
If anyone has new information about the murder, not previously reported to the Santa Barbara County Sheriff's Department, please contact Lt. Eric Koopmans, at (805) 681-4100, between 8:00 am and 5:00 pm, Monday through Friday.
—–
If you have information regarding the whereabouts of Sergio Tapia Zendejas, notify local law enforcement authorities or contact Santa Barbara County Sheriff's Detective Bureau.
Business Hours: (805) 681-4150
EMAIL:detective@sbsheriff.org