Just a reminder that we are having a Blood Drive TODAY at Sheriff's Headquarters located at 4434 Calle Real today from 2:00 p.m. to 6:30 p.m. What a great way to give back and honor of all those who perished and first responders who risked and lost their lives to save others 17 years ago on the anniversary of the horrific 9/11 terrorist attacks.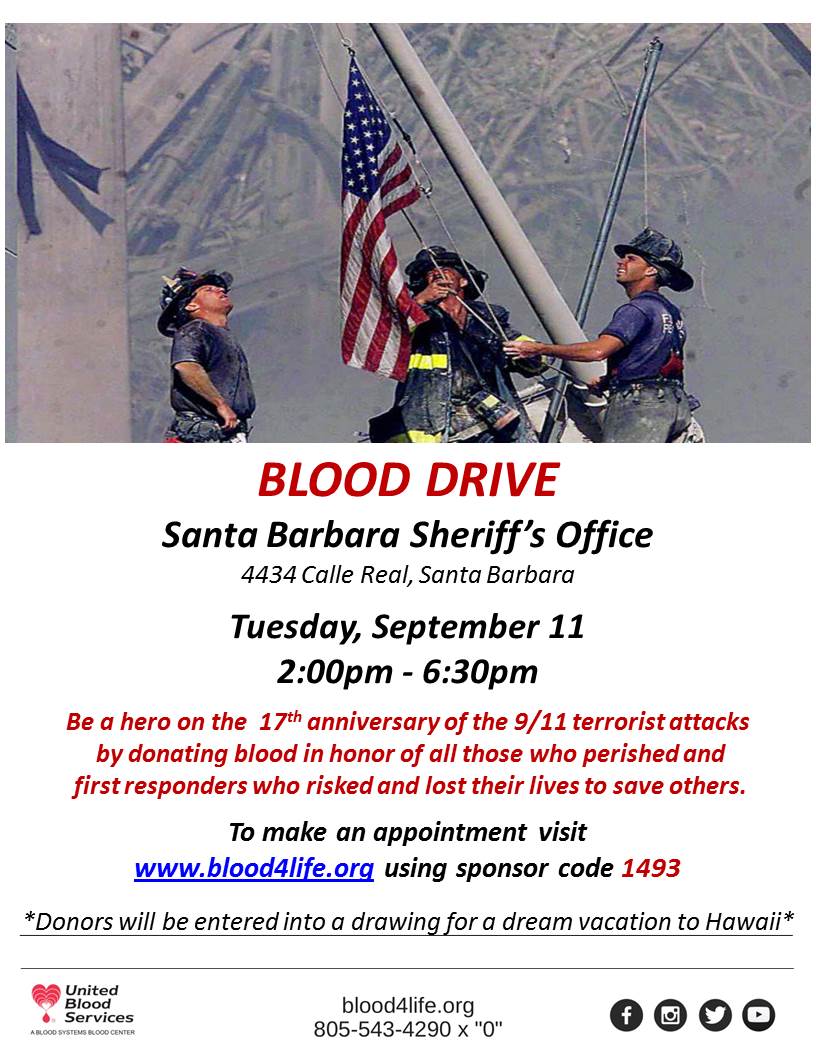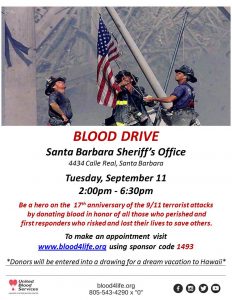 To make an appointment please visit www.blood4life.org and use sponsor code 1493 or click on the link below.
https://www.bloodhero.com/index.cfm?group=op&step=2&opid=805273&opidh=A10AFAC0C231A002D256D7CC01618045&idt=43325.4585185 You can also make an appointment by calling 805-543-4290
If you do not have an appointment, to save you time, complete your Fast Track Health History questionnaire on your computer or mobile device (smartphone or tablet) before you come to the drive. The health history must be completed the same day you donate; it cannot be completed a day or two ahead of time. To access the questionnaire, go to the following website.
United Blood Services can accept a Fast Track Ticket from most mobile devices as long as their staff can scan the ticket's barcode on your device. Or, print and bring the Fast Track Ticket with you.
Important: Before you start the questionnaire, please enter your first and last name exactly as it appears on your donor ID card (if you don't have a card, use your legal name). Do not use punctuation marks or special characters unless you see it on your ID card.
Don't forget your photo ID and please remember to hydrate prior to your arrival. Thank you so much for participating.
Donors will also be entered into a drawing for a dream vacation to Hawaii.