Overall Crime Rate Holds Steady Within All-Time Lows
Santa Barbara, Calif. – The Santa Barbara County Sheriff's Office is releasing the 2019 crime statistics for communities served by the Sheriff's Office.   The violent crime rate for our communities was 6.4% lower than in 2018 and 28% lower than the 10-year average.  Due to a 2.8% increase in property crimes, the overall crime rate was 1.6% higher than in 2018, but was still 15% lower than the 10-year average.
Sheriff Brown credits the continuing stability of the long-term declines in our crime rates to the collaborative efforts that are occurring within our communities and throughout the criminal justice system in Santa Barbara County, and as a result of the ongoing hard work and dedication of our Sheriff's Office team.  According to Sheriff Brown, "Within Santa Barbara County, our law enforcement, prosecutors, public defenders and the courts are all working together to improve public safety within our communities."  Sheriff Brown further pointed out, "We are continuing our work to reduce criminal recidivism by offering important rehabilitative programming to inmates in our jail. Our efforts are also greatly enhanced through collaboration with other county departments and many community-based organizations.  Together we are working to enhance the safety and well-being of Santa Barbara County."
The Sheriff's Office is honored to be afforded the opportunity to provide policing services for the cities of Buellton, Carpinteria, Goleta and Solvang.  Our effectiveness in maintaining public safety within each of these cities is the result of ongoing collaboration with their city councils, their leadership teams, and the communities we serve. We are committed to working with our contract cities to address negative crime trends that arise.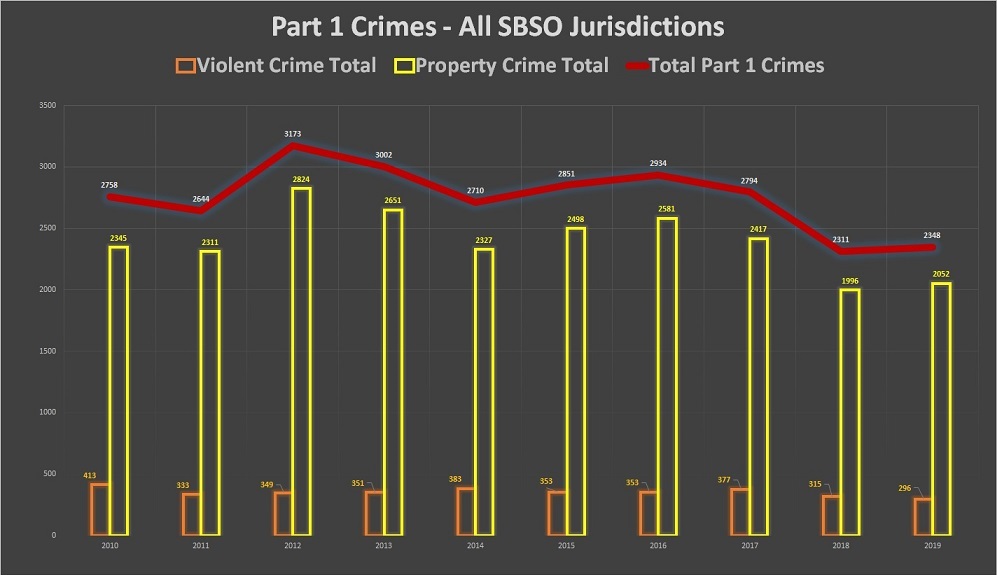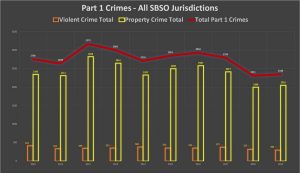 The Sheriff's Office compiles information about crimes occurring within the communities we serve and submits this information for inclusion within the Federal Bureau of Investigation's Uniform Crime Reports system (UCR).  For the purposes of the UCR system, reports are broken down into two major categories: Part 1 crimes, which are the most serious in nature, and Part 2 crimes, which includes a number of lesser criminal offenses and some juvenile status offenses.  Part 1 crimes are further broken down into two subcategories: violent crimes and property crimes.  Part 1 violent crimes are offenses that involve force or a threat of force and include criminal homicide, forcible rape, robbery and aggravated assault.  Part 1 property crimes are theft-related offenses that do not involve threats or force against the victim, including burglary, larceny-theft and motor vehicle theft.
When compared with the previous year (2018), overall Part 1 violent crime was down by 6.4%, with the most significant reductions occurring in rape (50% drop).  Overall Part 1 property crime was 1.6% higher, with the most statistically relevant increases occurring in theft (4.8% increase).
On an overall basis, Part 2 crimes were down very slightly, .3% over the previous year.  However, detailed analysis showed that some individual Part 2 crimes increased and some declined.  Part 2 crime categories that experienced declines over the previous year included fraud (28% drop), disorderly conduct (71% drop), vandalism (7% drop), public drunkenness (6% drop) and weapons violations (9% drop).  Statistically relevant increases included liquor laws (13% increase) and DUI (9% increase).  We experienced notable decreases in juvenile status offenses over the previous year.
Get the full report HERE
Part 1 crime rates by jurisdiction, 2019 versus 2018:
Unincorporated areas overall: 1% increase

1% increase in violent crime
1% increase in property crime
Buellton:  No change in overall crime

No change in violent crime
No change in property crime
Carpinteria:  27% overall decline

48% decline in violent crime
25% decline in property crime
Goleta:  16% overall increase

25% decline in violent crime
21% increase in property crime
Solvang:  18% overall increase

25% increase in violent crime (based on low numbers, only 2 additional crimes reported)
17% increase in property crime