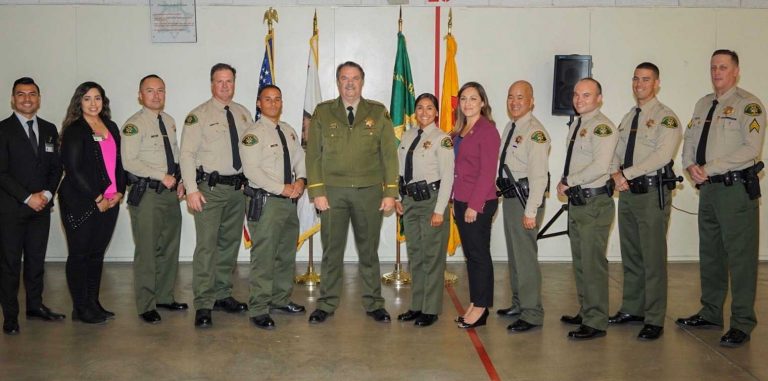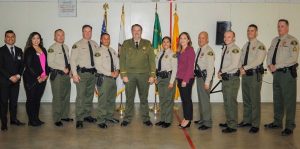 Santa Barbara, Calif. – In a ceremony on 10/21/2019, Sheriff Brown welcomed new employees and congratulated members of the Sheriff's Office on their new roles. Rafael Luna was welcomed as a Correctional Counselor and Crystal Carrillo as a Communications Dispatcher. Giuseppe Arnoldi, Sean Banks Jr., Valerie Centeno, Scott Naganuma, Raymond Lambert, Vicente Ramirez, and John Valenti were all sworn in as Sheriff's Deputies.
This round of deputies includes several with interesting background stories. Giuseppe is the third "Deputy Arnoldi" at the Sheriff's Office, following the lead of his father, Lieutenant Butch Arnoldi, and his sister, Deputy Francesca Arnoldi. Giuseppe's mother, Marla, is also a member of the Sheriff's Office, working as an Administrative Office Professional Senior. Also of interest, two of our new deputies bring with them entire careers of experience. Deputy Naganuma is retired from the Santa Barbara Police Department and Deputy Valenti retired from the California Highway Patrol.
Raquel Zick, an 18-year veteran employee with the County was congratulated on her new role as Public Information Officer. Raquel worked for the Probation Department before being hired by the Sheriff's Office. She served as a patrol deputy for 4 years, then went on to work in dispatch for 6 years. She then moved to the Administrative support team in 2014 and became the administrative assistant to the sheriff. She has also worked on the Sheriff's Media Team for several years.
Jarom Kemp, a 13-year veteran, was promoted to Sheriff's Sergeant. Jarom has served as a Corrections Officer, Custody Deputy, Sheriff's Deputy and Sheriff's Deputy – Special Duty. He has received many awards including the H. Thomas Guerry Award for Superior Performance in 2014.
Drawing from Michael Josephson's "What Will Matter," Sheriff Brown concluded the ceremony by
encouraging the audience to continue to choose to live a life that matters. Sheriff Brown emphasized
a part of the piece that says, "What will matter is every act of integrity, courage and compassion that
improved and protected lives in a way that brought honor to your badge and inspired others by your
example. What will matter is that you bore criticism with dignity and faced danger without hesitation
to right wrongs, enforce the law, uphold the Constitution and provide your community with order and
security."
The Sheriff's Office has room for more people interested in an exciting new career that matters. Visit
SBSheriff.org and take a look at our current job openings including Institutions Cook, Custody Deputy,
ECC Dispatch Call Taker, Sheriff's Deputy Trainee, and Institutions Utility Worker.