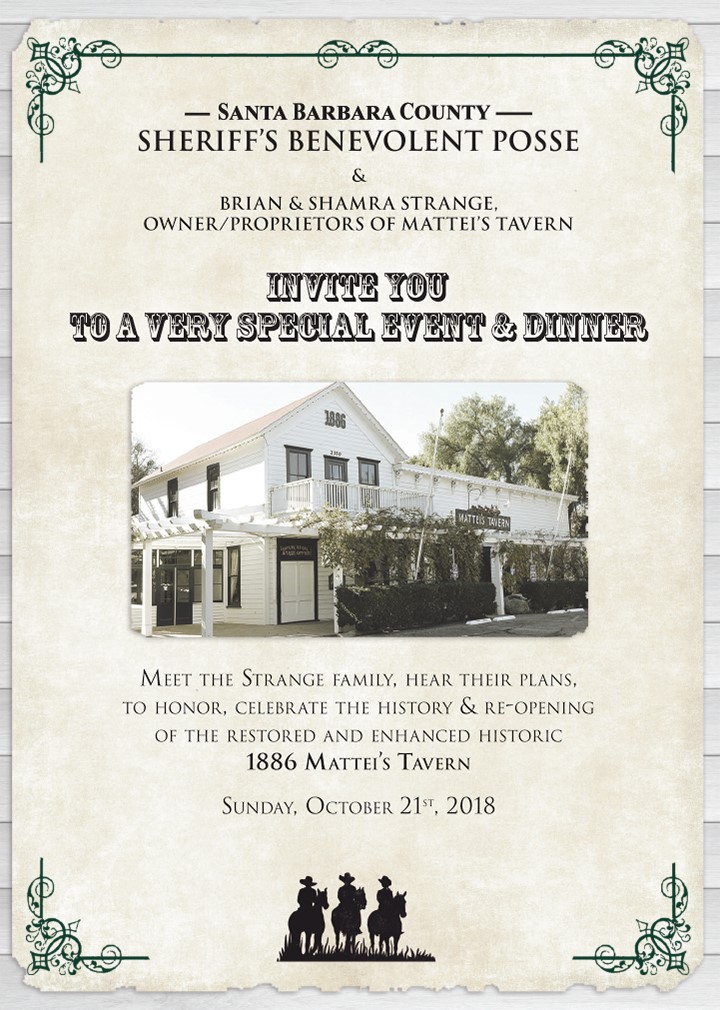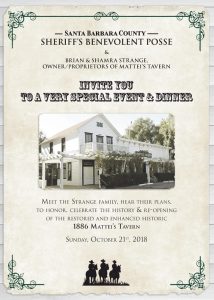 A late afternoon celebration, dinner and limited item auction to benefit the Santa Barbara County Sheriff's Benevolent Posse will be held at the historic 1886 Mattei's Tavern located at 2350 Railway Avenue in Los Olivos on Sunday afternoon, October
21 from 3:30 to 6:30 p.m.
The event will feature Mattei's owner/proprietors Brian and Shamra Strange discussing their plans for the future of the restored and enhanced property as well as a presentation on "Tales of Mattei's," little-known stories of the famous and infamous who visited Mattei's and the property's many legends presented by the Santa Ynez Valley Historical Society's notedhistorian John Copeland.
Guests will be greeted at the hitching post by the Santa Barbara County Sheriff's Mounted Enforcement Unit, which will later present colors, and will get to meet the Sheriff's Office newest canine crime fighter, "Krypto," along with other members of the K-9 unit.
Honoring Mattei's tradition of fine dining and Santa Maria style BBQ, a full dinner featuring Top Sirloin or delicious BBQ chicken will be served, beer from Firestone Walker and fine wines from top wineries including Strange Family Vineyards, Happy Canyon Vineyard, Saarloos & Sons and C5 Ranch and Vineyard. Tickets for the event are $125 per person or $1000 for a table of eight.  To purchase tickets, go to www.sbsheriffsposse.org.
Proceeds from the event and its limited item auction will benefit the Santa Barbara County Sheriff's Benevolent Posse and its efforts to help provide needed items and equipment to help protect the men and women who help protect all Santa Barbara County residents every day.
"We deeply appreciate Brian and Shamra Strange's personal involvement in hosting and participating in this event to benefit the men and women of the Sheriff's Office who work so hard to protect us every day," said Posse president Richard S. Kline. "I know I speak for all of us who will attend the event in expressing our great anticipation and excitement that Brian and Shamra will be revealing their plans for the future of the wonderful and historic Mattei's property which is beloved by them and the entire community."
The Santa Barbara County Sheriff's Benevolent Posse is a not-for-profit public benefit corporation with all contributions tax deductible under section 501(c)(3) of the Internal Revenue code. The Sheriff's Posse board is comprised of local non-law enforcement volunteers from throughout the county who donate their time and efforts to assist the Sheriff's Office fill its needs not funded by the constrained County budget.
In the recent past, the Sheriff's Posse has helped the Sheriff's Office obtain much needed emergency equipment including protective vests, night vision goggles, specialized weapons, computer equipment, a headquarters barn for its Mounted enforcement Unit and has supported the highly effective DARE program in County grammar schools that trains student to develop good decision-making skills and understanding of the harmful effects of substance abuse, bullying and violence.
The Posse is currently working toward a goal assisting the Sheriff's Office by identifying gaps in technology and equipment and assisting with procuring those items that may fall outside the capacity of the Sheriff's budget. "The pace of change with respect to technology and safety equipment makes such assistance critical to help keep the deputies safe and operating at the highest level of efficiency," said Kline.
"Unfortunately, our list of needs for the Sheriff's Office continues to grow faster than our ability to raise monies to fill those needs," said Kline. "And, with the likelihood of emergency situations occurring such as fire and flooding which will require new advanced specialized equipment, community support through the Posse is vital."
For more information about the Santa Barbara County Sheriff's Benevolent Posse, visit its website at www.sbsheriffsposse.org.
######