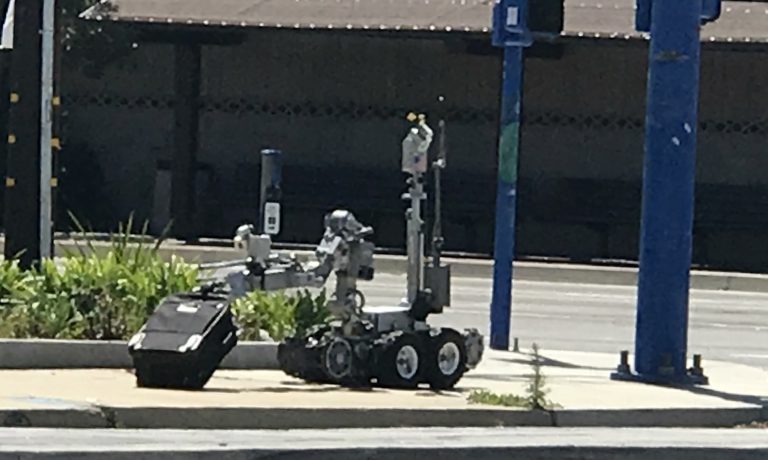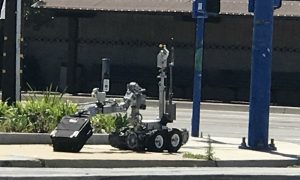 At approximately 9:40 a.m. this morning, April 17, 2018, a passerby called 911 to report seeing a suspicious suitcase near the intersection of Turnpike Road and Hollister Avenue against the fence line at San Marcos High School. Sheriff's deputies and California Highway Patrol officers responded and secured the immediate area. The Sheriff's Bomb Squad was deployed to conduct an investigation into the contents of the abandoned suitcase. As a precautionary measure, the surrounding streets were closed, traffic was re-routed and pedestrians were kept out of the area. The disruption was minimal for students who were in class during the incident and determined to be a safe distance from the potential threat.
The Sheriff's Bomb Squad used remote procedures including a robot to approach and open the suspicious suitcase. Sheriff's bomb technicians found a sleeping bag inside but no explosive or dangerous items. The suitcase was rendered safe at approximately 11:15 a.m. prior to the campus lunch bell. The Sheriff's Office communicated closely with San Marcos High School Administrators and the Santa Barbara Unified School District to ensure the safety of the students.
The Sheriff's Bomb Squad is the only public safety Bomb Squad in Santa Barbara County. The squad serves the entire county and all law enforcement jurisdictions at no charge to any requesting agency. The Sheriff's Bomb Squad provides expert explosive and bomb disposal response 24 hours per day, 365 days a year.