At approximately 10:40 a.m. this morning, April 17, 2019, Sheriff's deputies and Santa Barbara Police officers responded to a report of a bomb threat at the Santa Barbara County Administrative Office Building located in the 100 block of East Anapamu St. in downtown Santa Barbara.  An investigation is underway by the Santa Barbara Police Department to identify and locate the person who called 911 and made the threat.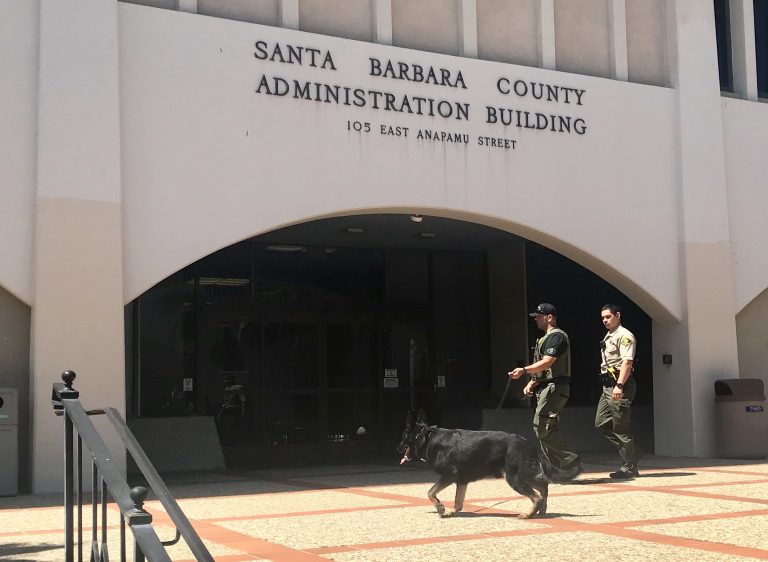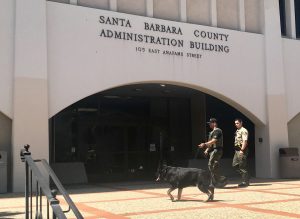 The Sheriff's Bomb Squad was notified and County employees in the building were instructed to search their area for any suspicious items. A package was located on the first floor during the search. The decision was made to evacuate the building and surrounding area.  Streets surrounding the County Building in the busy downtown Santa Barbara area were blocked off and traffic was diverted away from the County Building.
The Sheriff's Bomb Squad arrived and determined the package was uninvolved and was not a threat. A team of three specialty trained bomb detection K9 teams were brought in to search the building and adjacent parking lot.  The K9 teams included, the Santa Barbara County Sheriff's Office, Cal Poly San Luis Obispo Police Department and Cal State San Bernardino Police Department.  The K9 teams were attending regional training in Ventura County and were able to quickly respond and assist.  No items were located during the search and at approximately 2:15 p.m. the evacuation was lifted and the building was reoccupied.
The Sheriff's Bomb Squad is the only public safety Bomb Squad in Santa Barbara County. The squad serves the entire county and all law enforcement jurisdictions at no charge to any requesting agency. The Sheriff's Bomb Squad provides expert explosive and bomb disposal response 24 hours per day, 365 days a year.
###