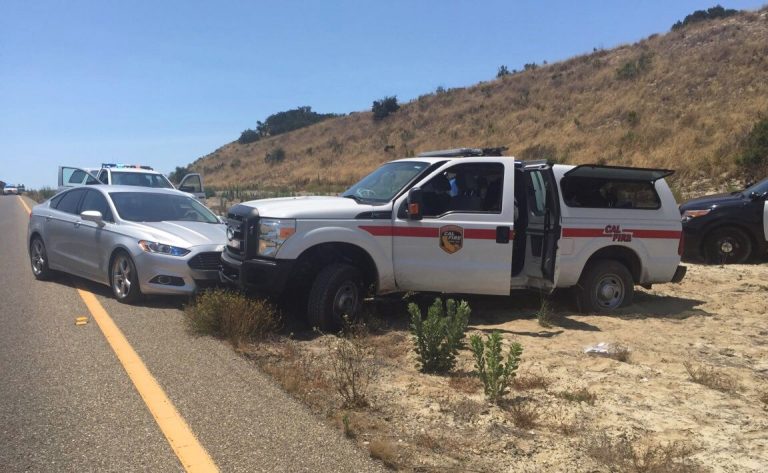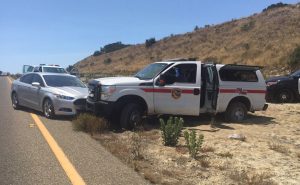 At approximately 11:50 a.m. today, July 27, 2018, Sheriff's deputies observed a reported stolen Cal Fire pickup truck driving near Augusta St. in Los Alamos.  The truck had been recently stolen out of Northern California and was associated with a subsequent theft in Pismo Beach.  Sheriff's deputies followed the stolen pick-up truck while additional resources responded.  When the driver observed law enforcement, he began actively evading and a pursuit ensued on Highway 135 west of Los Alamos.
A Santa Barbara County Sheriff's Fire/Air Support Unit helicopter responded to assist in the pursuit as did personnel from the California Highway Patrol.  The suspect drove onto Hwy 1 and eventually merged with Hwy. 135 and continued towards Orcutt.  Just outside of Orcutt, the suspect made a U-turn on Highway 135 near Clark Ave. and started driving S/B Hwy. 135 towards Vandenberg Air Force Base.  On Hwy 1, near the Hwy. 135 interchange near Graciosa Road attempted another U-turn in a sandy soft-centered median.  Before he could make it back onto the roadway, deputies used pursuit intervention techniques to successfully stop the vehicle.  Due to the collaborative efforts of Sheriff's deputies, CHP Officers and Security Forces from Vandenberg Air Force Base, the suspect was arrested at gunpoint and taken into custody without further incident.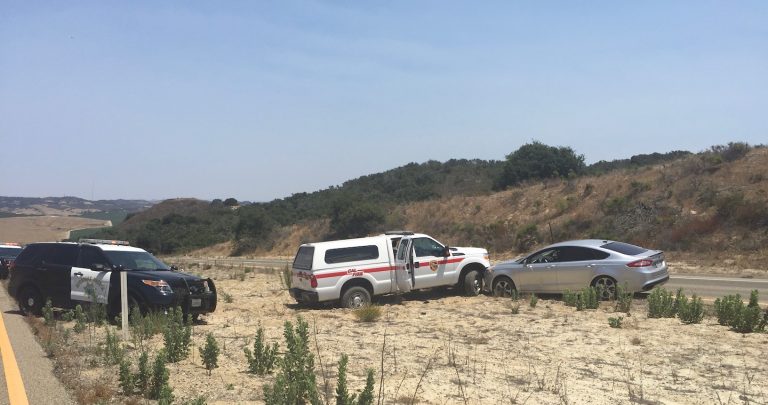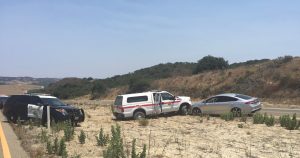 The suspect was identified as being 38-year-old Donald Schellinger, a transient from Northern California.   He will be booked at the Santa Barbara County Jail on charges of 2800.2 VC, Felony reckless evading; 496 PC, Possession of stolen property; 10851 VC, Vehicle theft; and 3056 PC, Parole violation.