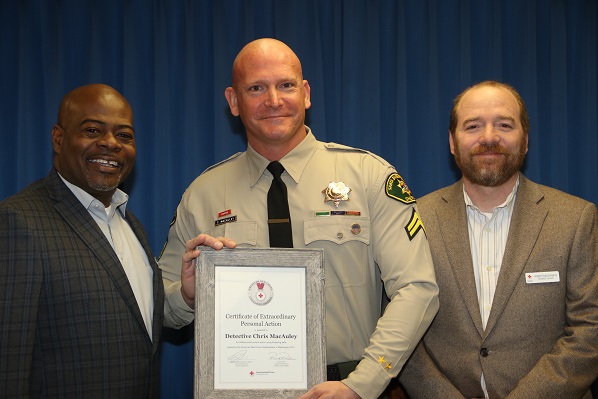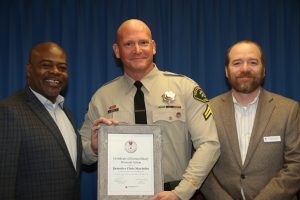 Santa Barbara – In a ceremony held at Sheriff's Headquarters, Santa Barbara County Sheriff's Detective Christopher MacAuley was presented with the American Red Cross Lifesaving Award for his successful intervention which saved the life of a one-year old child.
On June 21, 2019, Detective MacAuley was working patrol from the Santa Maria Sheriff's Substation.  MacAuley was patrolling the 3300 block of Orcutt Road, when he was flagged down by a distraught father who was carrying his limp one-year old child.  Detective MacAuley assessed the child and determined he was unconscious and not breathing.  Relying on his first responder training, he quickly administered back blows, chest compressions and a finger sweep.  Detective MacAuley was able to dislodge a small piece of plastic the child had ingested.  MacAuley's timely actions restored the child's ability to breath and allowed the child to quickly recover.  His actions were instrumental in saving the child's life.
American Red Cross Central California Region CEO Tony Briggs and Board Chair Robert Rauchhaus presented the award to Detective MacAuley.  Sheriff Bill Brown, and the Sheriff's executive and command staff, along with friends, family and co-workers of Detective MacAuley were on hand to congratulate him on the occasion.  MacAuley remarked that he had never seen a look as horrifying as the face of the father when he handed him his child.  "I am just glad that I was there, and able to get the child breathing again.  I was as relieved as the father."  Detective MacAuley is a 10-year veteran of the Santa Barbara County Sheriff's Office.