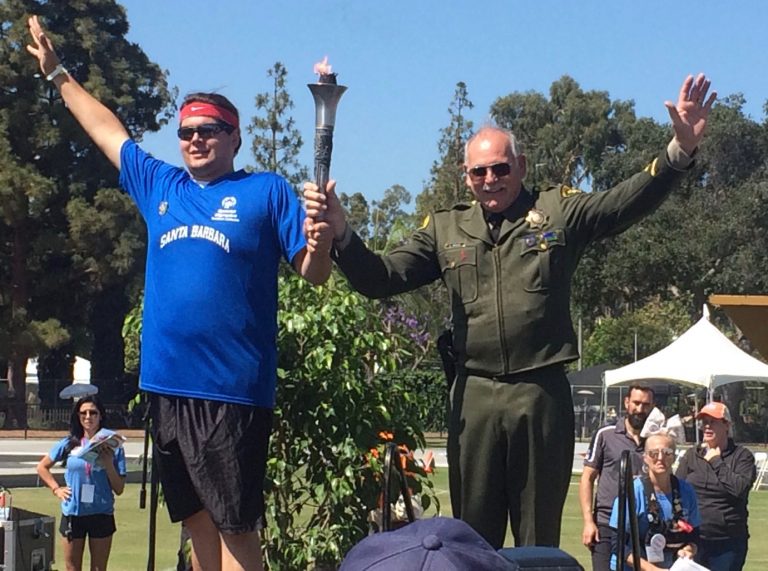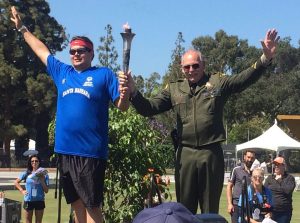 Sheriff's Lieutenant Butch Arnoldi and Carpinteria Special Olympics Athlete Ben Watts were honored today, June 9, 2018, with the privilege of carrying the "Flame of Hope" into the Opening Ceremony of the 2018 Southern California Special Olympics Summer Games in Long Beach. This morning at 9:30 a.m., they brought the torch into the Cal State Long Beach stadium to kick off the official start of the Summer Games.  More than 10,000 individuals are attending the two-day event and more than 1,100 Southern California Special Olympics Athletes are competing. Making the event even more special is that 2018 marks the 50th anniversary of Special Olympics and the 32nd year for the Law Enforcement Torch Run.
Lt. Arnoldi, a 44-year veteran of the Sheriff's Office, has been participating in Special Olympics for more than 35 years and was chosen to carry the torch based on his long-term dedication and commitment over the years to help raise funds and public awareness for Special Olympics Southern California.  While the Law Enforcement Torch Run (LETR) started in Kansas in 1981, Lt. Arnoldi was among the first few law enforcement officers that participated in the the LETR when it came to Southern California in 1986.  He said, "Over the years, much has changed with LETR.  We now rappel down buildings, pull airplanes and fire trucks, don aprons to collect tips, and jump in "chilly" waters for our Polar Plunge events.  Our Final Legs which consists of three different routes from all over Southern California remind us of our roots and why we keep the "Flame of Hope" going for the Athletes."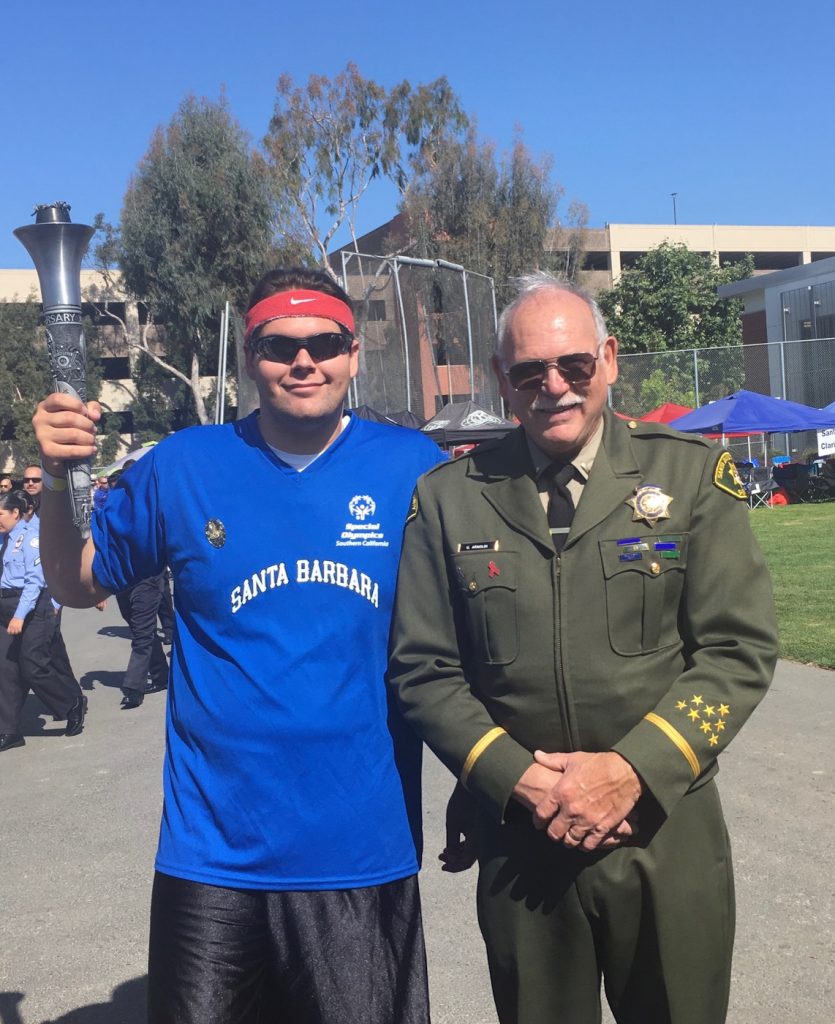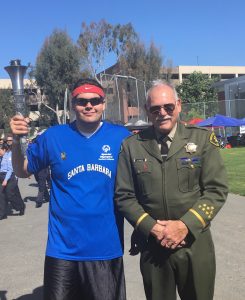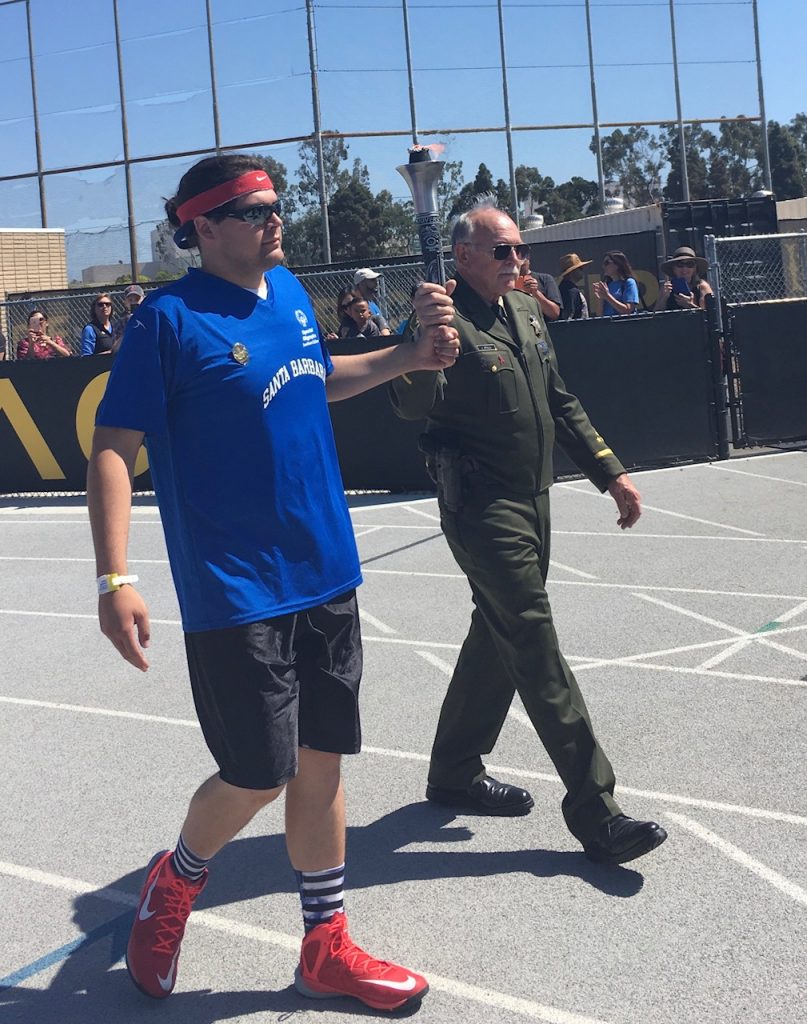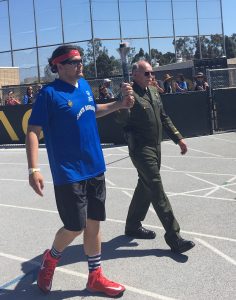 It is not just Lt. Arnoldi who is passionate about supporting Special Olympics, his entire family participates in many different events throughout the year.  Lt.Arnoldi said, "We are very supportive of Special Olympics Southern California from volunteering at the various Tip-A-Cop events, attending and handing out medals and ribbons at the various sports events, to actually participating in the annual Law Enforcement Torch Run as well as attending the annual Summer Games.  The LETR has and will continue to change the future for people with intellectual disabilities and has truly paved the way for acceptance and inclusion."
Even before the LETR came to Southern California, Lt. Arnoldi was involved in fundraising and public awareness events for Special Olympics.  In the early 1980's the Santa Barbara County Sheriff's Office held its first Tip-A-Cop event at the "Royal Scandia Restaurant" in Solvang. Lt. Arnoldi has been coordinating Tip-A-Cop events ever since.
Lt. Arnoldi also recalls, "The Sheriff's Office, in partnership with the Santa Barbara County Deputy Sheriffs' Association, sponsored events at St. Vincent's School, Hillside House and the Alpha Training Center, which at that time were educational and housing facilities that assisted people with intellectual disabilities and truly assisted in lighting the way for acceptance and inclusion for people who make up that population.  In the early years, the Law Enforcement Torch Run Route was through all the "back roads" of Santa Barbara County, in the South County we began way out on Cathedral Oaks to Foothill Road to East Valley Road to Toro Canyon Road to Foothill Road in Carpinteria until we reached the Santa Barbara County/Ventura County line.  After our first year, we changed that to run along our main highways, Hollister Avenue and Calle Real in Goleta, State Street and Cabrillo Blvd. in Santa Barbara and through the Summerland business district to Via Real and Carpinteria Ave. in the City of Carpinteria to the Santa Barbara County line at Bates Road.  This change truly brought more public awareness to Special Olympics and the outstanding organization it has been now for 50 years."
Sheriff Bill Brown said, "We in the Sheriff's Office are very proud of Lt. 'Butch' Arnoldi for his 35 years of devoted service to this important organization. His contributions have been legion, and we thank Special Olympics for choosing him for the distinct honor of carrying the torch into the Summer Games in Long Beach."