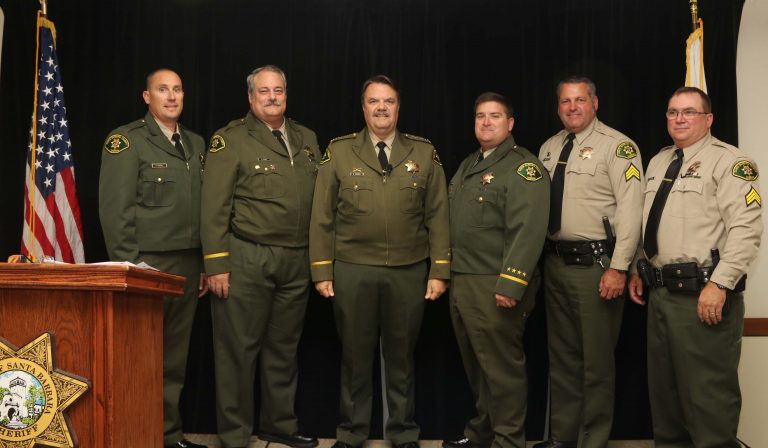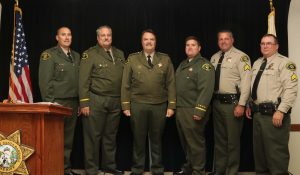 The Santa Barbara County Sheriff's Office is pleased to announce the promotions of nine Sheriff's employees including the promotion of a new Second in Command and Chief of Law Enforcement Operations.  The select group was honored this morning, September 10, 2018, at a promotional ceremony held at Earl's Place at the Earl Warren Showgrounds.  Before a packed room of colleagues, family and friends, Sheriff Bill Brown promoted an Undersheriff, a Chief Deputy, a Commander and two Sheriff's Sergeants.  He also promoted a Records Manager, Financial Office Professional, an Administrative Office Professional and a Correctional Counselor.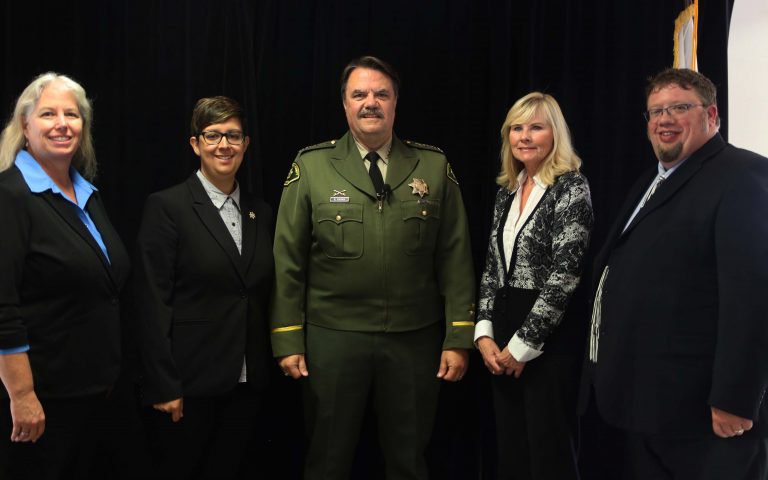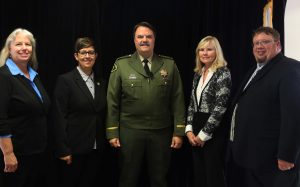 The five Sheriff's deputies who were promoted, were chosen after challenging and competitive testing processes. Sheriff Brown, who presided over the ceremony, congratulated the deputies for advancing in their careers.  He said, "The competition for promotion is always very tough due to the quality and caliber of our people. Those who emerge successfully from this rigorous process are to be applauded and that is what today is all about."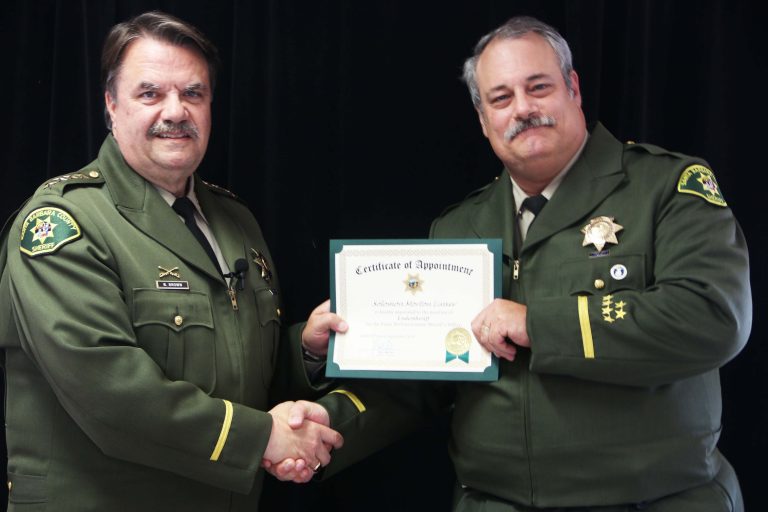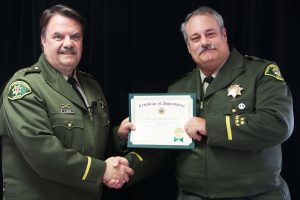 Solomon "Sol" Linver, a 34-year veteran of the Sheriff's Office, was sworn in as the new Undersheriff.  Undersheriff Linver has worked a wide variety of assignments during his expansive career, including four years as the Isla Vista Foot Patrol Lieutenant where he helped design the current Isla Vista Sheriff's station. He was also the agency's first high tech crimes investigator.  He has led the Criminal Investigations Division, the Special Investigations Bureau, the Operations Support Division and has served as the Chief of Law Enforcement Operations the past year.
Sheriff Brown said the Sheriff's Office will greatly benefit from the years of experience Undersheriff Linver brings to the position.  He said, "Sol Linver has impressive qualifications and extensive experience as a law enforcement practitioner at the line, supervisory, management, command and executive levels.  He is a man of integrity who is bright, caring and unsurpassed in his dedication to the Sheriff's Office.  I am proud to promote him as our organization's second in command."
Undersheriff Linver said he is honored so take on his new role.  He said, "I can say that 34 years ago as a young deputy, I never thought in my wildest dreams I might be the Undersheriff for this amazing agency.  I want to thank the Sheriff for his belief and confidence in me to hold this position.  It is my privilege to help provide the men and women of the Sheriff's Office with the support, tools and training they need to do their best."
The Sheriff also took the opportunity to thank his outgoing Undersheriff Bernard Melekian for the outstanding job he did as second in command of the organization for the past 3 ½ years.  Melekian stood and was greeted with enthusiastic applause from the audience.  Melekian started his new job today at the County Executive Office as the assistant county executive officer over public safety.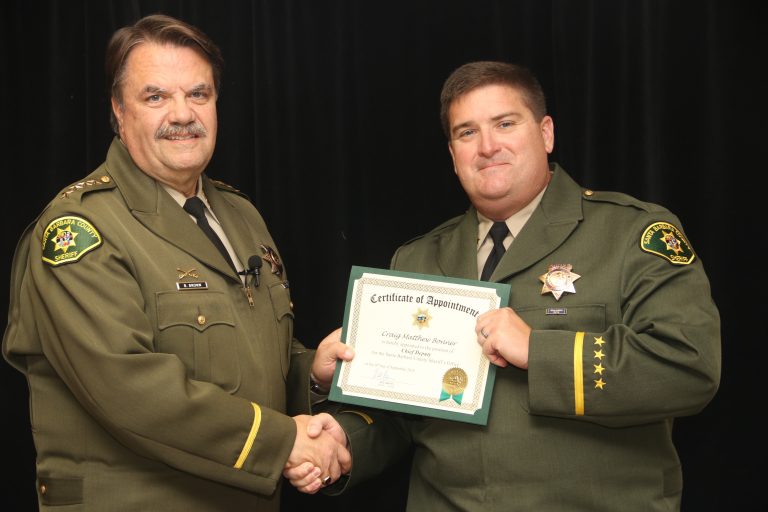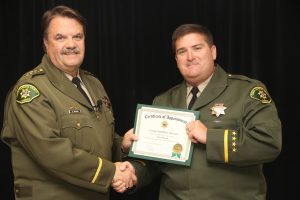 Craig Bonner, a 25-year veteran of the Sheriff's Office, was promoted to Chief Deputy of Law Enforcement Operations.  Chief Bonner, like Undersheriff Linver, has worked numerous assignments and brings a wealth of experience to the position.  His assignments included years as a detective working a variety of investigative assignments.  He also has worked in the Sheriff's Office of Professional Standards, Special Investigations Bureau and managed the Coroner's Bureau.  He has also has led the North County Operations Division and most recently was the Commander of our Operations Support Division.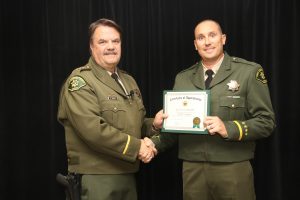 Kevin Huddle was promoted to Commander of South County Operations.  Commander Huddle got his start working for the Sheriff's Office as a Parking Enforcement Officer in Isla Vista.  After graduating from the Ventura Sheriff's Academy, he was hired by the Sheriff's Office as a deputy and was assigned to the Field Training Program.  Since then he has worked a multitude of assignments including the Special Enforcement Team, Mobile Field Force, Isla Vista Foot Patrol and as a Background Investigator.  He worked as the Goleta Traffic Bureau and later became the Chief of Police Services for the City of Goleta.  While working as a Detective in Major Crimes, he oversaw a number of high profile murder investigations.  He most recently served as the Sheriff's Adjutant.  Commander Huddle comes from a law enforcement family.  Both his father and step-father were Santa Barbara Police officers.
Gary Wilberding, who has 22 years of law enforcement experience, was promoted to Sergeant and is assigned to the Goleta Valley.  Sgt. Wilberding has worked as a Field Training Officer and on the Mobile Field Force.  He is also a part of the Behavioral Sciences Unit and is a Crisis Intervention Team instructor.  Sgt. Wilberding has served on the Hostage Negotiation Team for nine years.  He has been named Deputy of the Quarter on two separate occasion and is the recipient of a 2004 H. Thomas Guerry Award for Superior Perfomance/Conflict Resolution.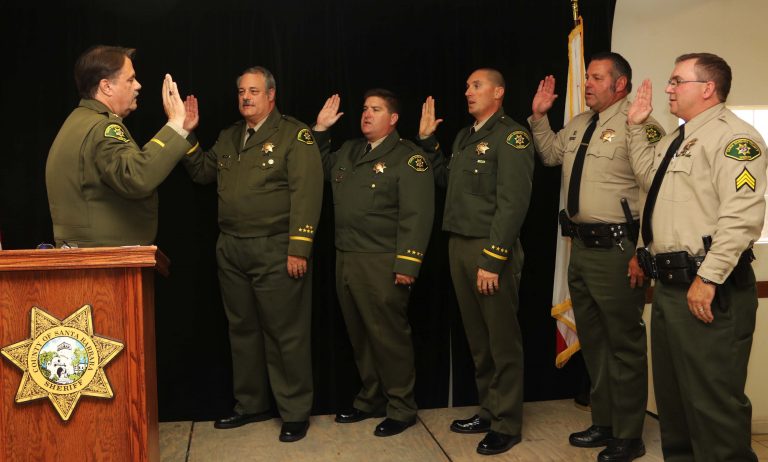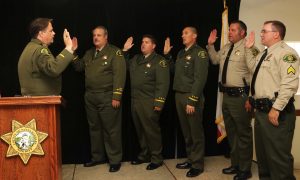 Matthew Fenske was also promoted to the rank of Sergeant.  Sgt. Fenske has 16 years of law enforcement experience and was Santa Barbara County's first investigator solely dedicated to combat Human Trafficking.  He has received numerous awards from a variety of community groups for his work with vulnerable victims.  Sgt. Fenske was noticed for his outstanding work early on in his career. Shortly after he was hired, he was named Rookie of the Year and since then has received several department awards.  Sgt. Fenske is currently assigned to South County Operations and Goleta Valley patrol.  He is on the Crisis Intervention Team and the Sheriff's Media Team.
In addition to the deputy promotions, a number of support staff were promoted as well including Susan Campbell, who is now a Records Supervisor assigned to Criminal Records.  Susan once worked as a Communications Dispatcher for the Fairfax County Police Department and dispatched during 9/11 sending resources to the Pentagon.
Kristie Velasco is now a Financial Office Professional Senior.  During her three years working in the business office she has been recognized twice as an Employee of the Quarter for her hard work on several fiscal projects.
Michele Hague is now an Administrative Office Professional Senior and has been with the Sheriff's Office for the past decade.  She is assigned to Criminal Records.
Timothy Tibbetts was promoted as a Correctional Counselor after working the past several months as a Utility Worker.  In his new role, Tibbetts is teaching classes for the Sheriff's Treatment Program and helping inmates with their addictions through training, counseling, and referrals.  His educational background and caring demeanor will be a welcomed asset to the criminal justice involved members of our community.
The Sheriff's Office wants to congratulate all of those promoted today and we wish all of them continued success in the new chapters that lie ahead in their careers.
The Sheriff's Office is always looking for outstanding people who are looking to make a difference in their community. If you are interested in a rewarding career with the Sheriff's Office, go to our website at www.sbsheriff.org and click on Join Us to find out more about job opportunities.  We currently have openings for Dispatchers, Deputy Sheriffs and Custody Deputies.
###