The Santa Barbara County Sheriff's Office would like to congratulate the Sheriff's employees and community members who were recently honored at a Recognition Awards Program and Luncheon held at the Earl Warren Showgrounds on October 13, 2021. The award recipients were recognized for their exemplary service during 2020.  Lunch was graciously provided by the Santa Barbara County Sheriff's Benevolent Posse who have consistently hosted this event as a gesture of support and thanks to the honorees.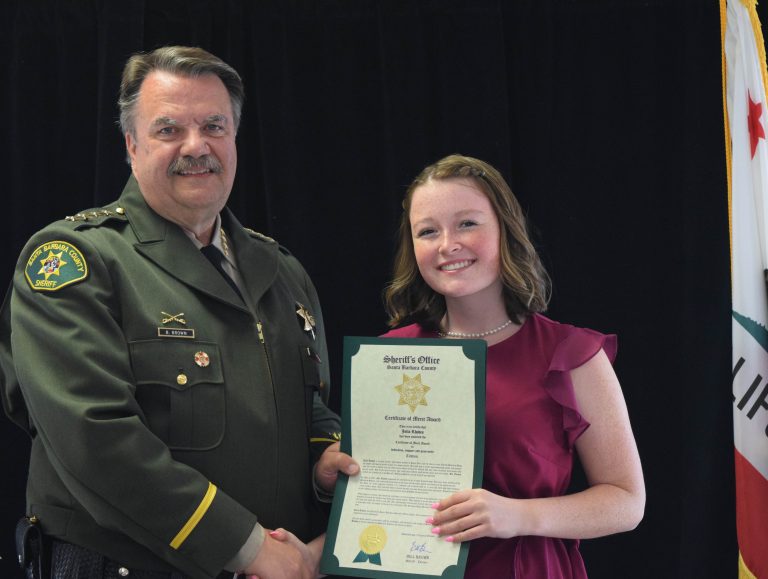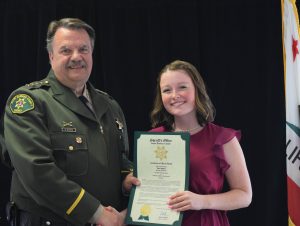 The award presentation began with a Certificate of Merit presented to Julia Rhodes, a 14-year-old Jr. high school student in Santa Ynez who had the idea to create autism sensory bags for people with special needs as part of a school project. Julia assembled six of these sensory bags and presented them during a daily briefing at the Solvang Station, where she explained how they can be used on calls involving children on the autism spectrum. One of these toolkits was effectively used by a deputy during a call involving an autistic child. Sheriff Brown thanked Julia for her great concern, generosity, and her innovative contribution to the Sheriff's Office and the citizens of Santa Barbara County.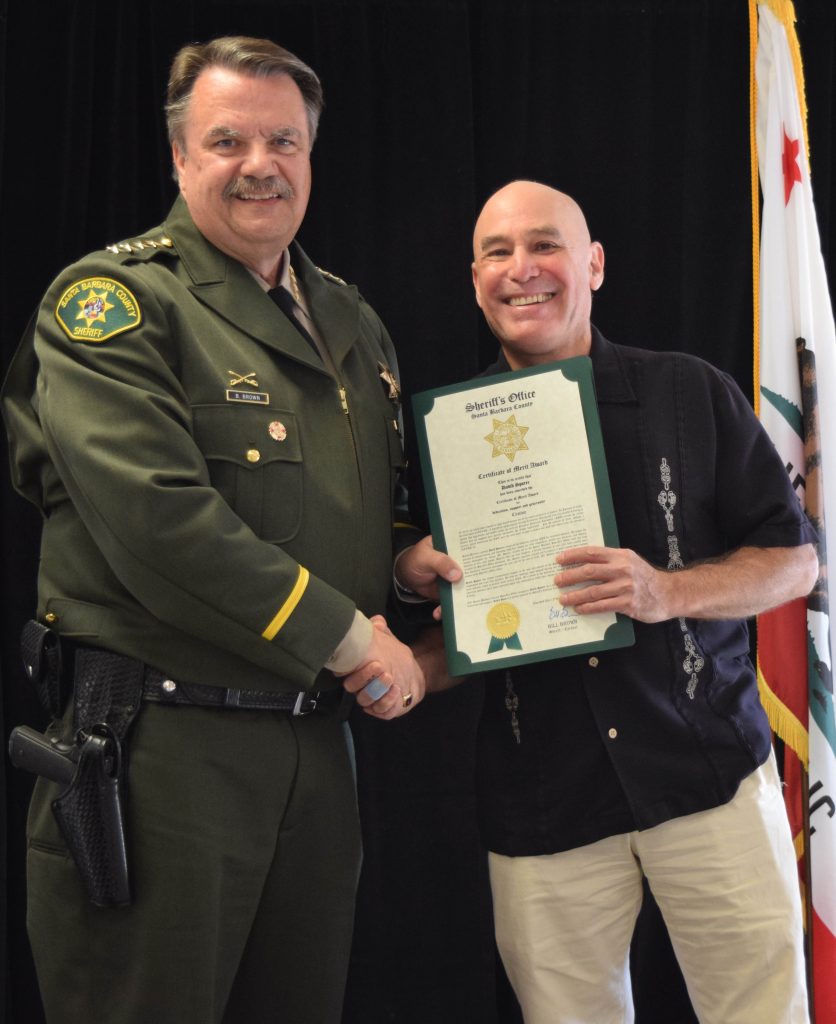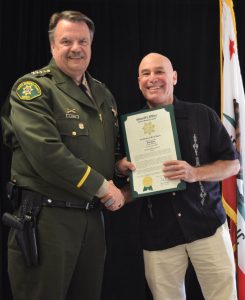 Community Member David Sparer was also presented with a Certificate of Merit for his donation of PPE equipment for first responders during the onset of the COVID-19 pandemic. Mr. Sparer realized in the early stages of the pandemic the desperate need for PPE for essential workers. He began the process of manufacturing and donating cloth face masks for first responders, health care workers, and hospice nurses throughout the county. By the end of 2020, Mr. Sparer had donated well over 1,200 masks to the Sheriff's Office alone and because of his dedication, support and generosity, many essential workers, including Sheriff's personnel, were better protected while they continued to fulfill their duties to the people of Santa Barbara County.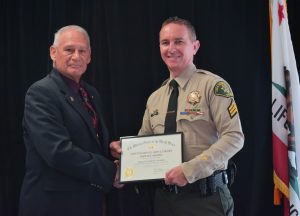 United States Marine Corp Forces Reserve Brigadier General Fred Lopez (ret.)  presented Sheriff's Sergeant Jarrett Morris with the Military Order of the World Wars Law and Order Individual Award. Sergeant Morris was honored for his distinguished career, and specifically his outstanding leadership this past year which included his supervision of the Sheriff's Office K9 Unit, his role as the Coroners Sergeant during the 1/9 Debris Flow and Conception Dive Boat Disaster and his leadership of the Sheriff's Office Mobile Field Force team.
Fifteen Sheriff's deputies received a commendation for naloxone saves where they administered Narcan in a manner that resulted in the reversal of a suspected opioid overdose and prevents a victim from dying. These deputies include; Sheriff Sergeant Edward Moss, Sheriff's Deputy Bruno Bertuzzi, Sheriff's Deputy Matthew Cianciarulo, Sheriff's Deputy Joshua Elizalde, Sheriff's Deputy Hartley Freedman, Sheriff's Deputy Garrett Gish, Sheriff's Deputy John Heil, Sheriff's Deputy Kody Kiesow, Sheriff's Deputy Damien Marquez, Sheriff's Deputy Justin Oropeza, Sheriff's Deputy Mark Riggar, Sheriff's Deputy Robert Samaniego, Sheriff's Deputy Ben Sandu, Sheriff's Deputy Daniel Skall, and Sheriff's Deputy John Valenti.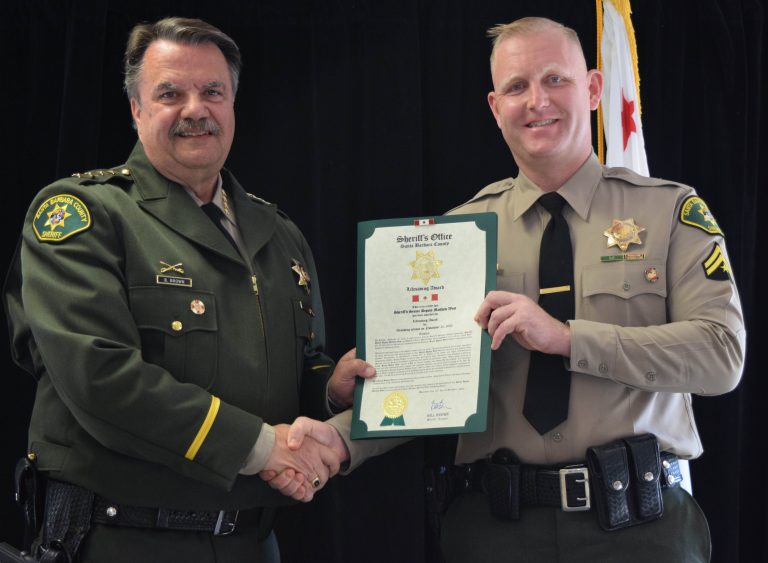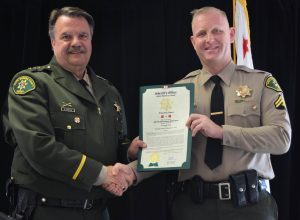 Sheriff's Senior Deputy Matthew West received the Lifesaving Award for his response to a call involving a 26-year-old male who was reportedly non-responsive and not breathing. Senior Deputy West was first on-scene of the call where he found the patient lying on the asphalt roadway, next to a vehicle. The patient was not breathing, had no pulse, was cold to the touch, and his skin was blueish/purple in color. Senior Deputy West believed this was a possible opiate overdose and he administered a single dose of Narcan to the patient and began cardiopulmonary resuscitation (CPR). Senior Deputy West provided CPR for several minutes until Santa Barbara County Fire personnel arrived. The patient eventually began breathing on his own and was transported to Marian Regional Medical Center, where he made a full recovery.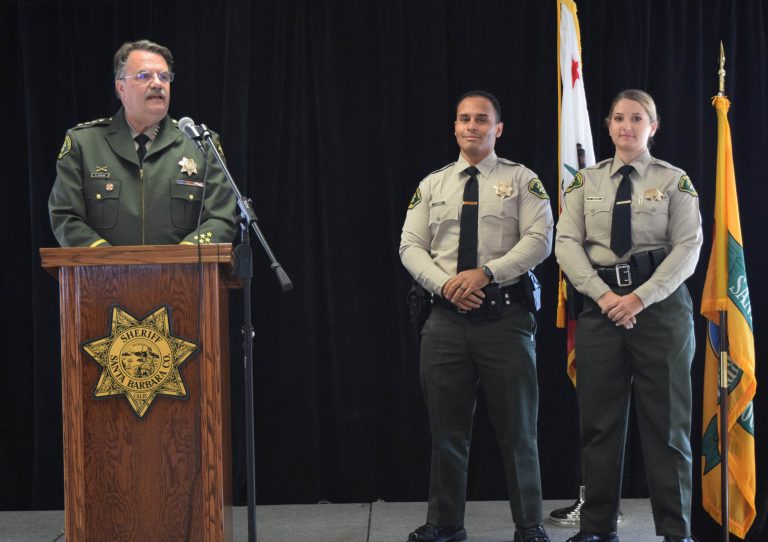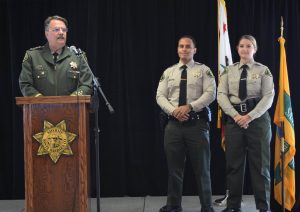 Sheriff's Deputy Shawn Banks and Deputy Celeste Johnson were also presented with the Lifesaving Award for their response to a suspected overdose call. Deputy Banks and Deputy Johnson arrived at the scene before emergency medical services and found the patient on the floor of a bathroom unconscious and unresponsive. Deputies immediately began performing CPR, taking multiple turns while an Automated External Defibrillator (AED) was deployed. The AED assessed the patient and recommended CPR be continued. Both deputies traded off CPR duties for several minutes while continuing to assess the patient. Deputy Banks and Deputy Johnson believed the patient was suffering from possible opiate overdose and deployed a single dose of Narcan as Fire and medics arrived on scene and took over medical aid. The patient responded positively to the Narcan and was conscious, alert, and breathing on his own a short time later.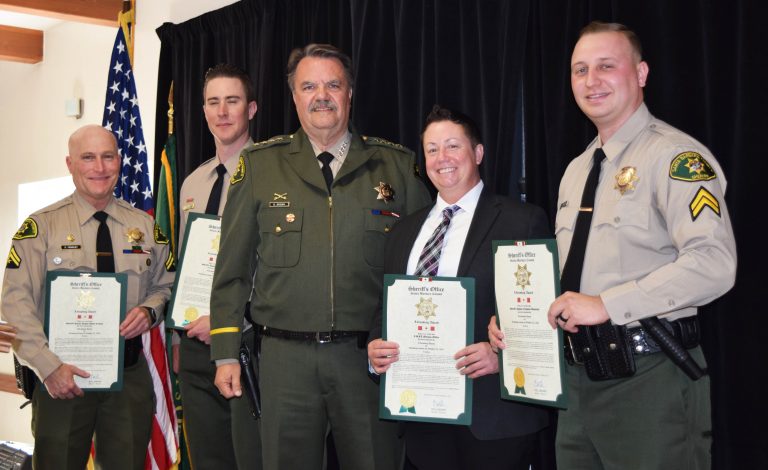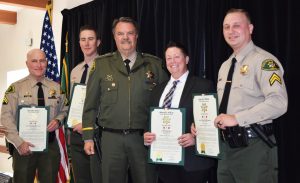 Sheriff's Senior Deputy David Frawley, Sheriff's Deputies Nicholas Adomaitis and Gregory Plett, and Behavioral Wellness Licensed Marriage and Family Therapist Melissa Miller received the Lifesaving Award for their response to a call for a suicidal subject. Sheriff's Dispatch received a request from the San Luis Obispo Police Department to check the welfare of a Cal Poly student who had sent a text message to his roommate stating he was "in a tree with a noose." Deputies and LMFT Miller responded to the area of the Cold Spring Bridge on Highway 154 where they found the young man sitting on a large branch 15 feet up in a tree, about 75 yards away. Responders spent hours patiently talking with the student, slowly building a rapport and moving incrementally closer to him. After several hours, the student abruptly jumped from the tree. Deputy Plett reached the student first and immediately cut the rope that was suspending him. Deputies Plett and Adomaitis lowered him to the ground, removed the noose from around the student's neck and stabilized his head. The patient was extricated and transported to Santa Barbara Cottage Hospital where he eventually recovered from this harrowing ordeal.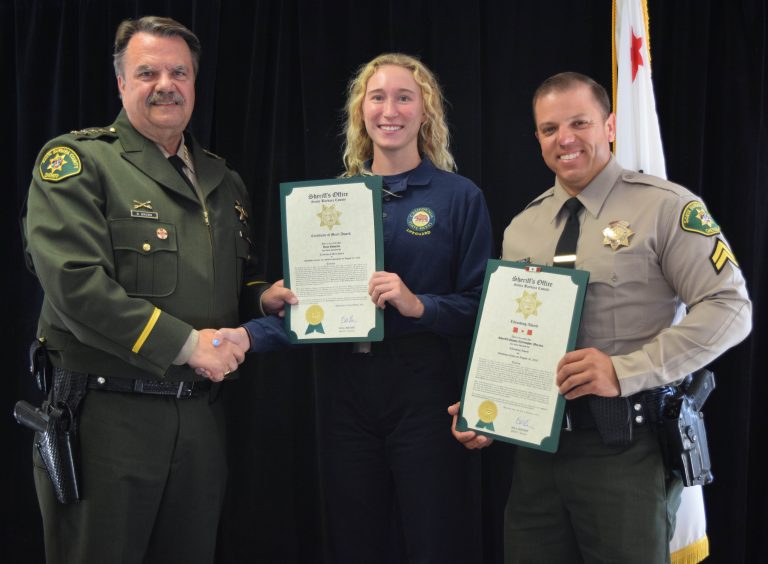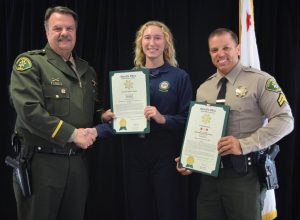 Sheriff's Senior Deputy Patrick Hayes and Sheriff's Deputy Christopher Morales received the Lifesaving Award along with community members Beth Couba, Tess Edwards, Laura Morales, and Melissa Reiman who were awarded Certificates of Merit for saving the life of a 70-year-old man who appeared to have suffered a heart attack and collapsed on the boardwalk near Linden Avenue in Carpinteria. Sheriff's Senior Deputy Patrick Hayes and Deputy Christopher Morales were nearby and alerted of the medical emergency. When they arrived on scene, deputies assessed the emergency and began to render aid to the patient along with two off-duty nurses, Laura Morales and Beth Couba, who were already performing CPR with the assistance of off-duty flight nurse Melissa Reiman and State Park Lifeguard Tess Edwards.  Sheriff's deputies took over emergency care, and with the combined efforts of Ms. Reiman and Ms. Edwards, Senior Deputy Hayes and Deputy Morales continued lifesaving efforts. Sheriff's Sergeant Calderon arrived on scene soon after with an AED that was applied the patient's chest, and one shock was administered to the patient. After several additional rounds of CPR, the patient began to breathe on his own. The patient was transported to Cottage Hospital for advanced medical treatment and eventually made a full recovery.  The Sheriff's Office has been unable to contact Beth Couba, Laura Morales, and Melissa Reiman to thank them for their lifesaving actions and would like to encourage them to contact us at info@sbsheriff.org.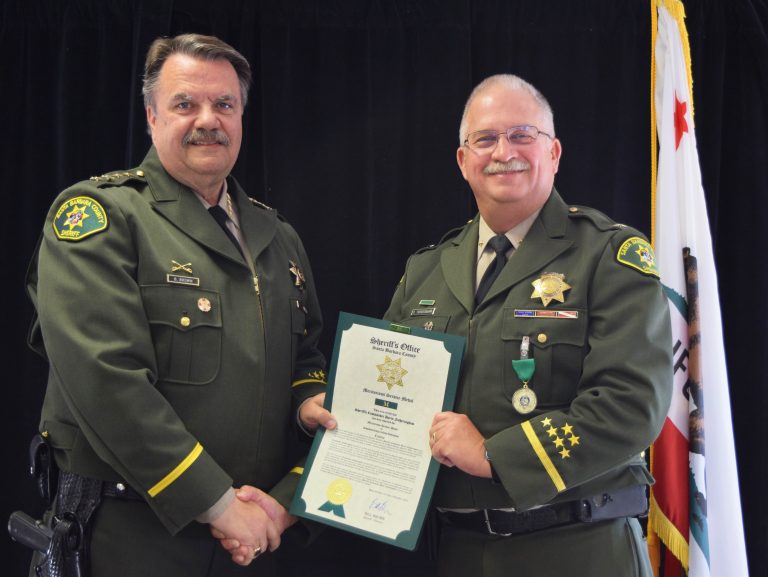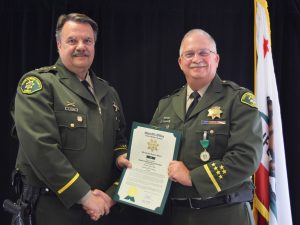 Sheriff's Commander Darin Fotheringham received the Meritorious Service Medal for his work on a project that will save the Sheriff's Office over $240,000 in the first year, and in excess of $1.5 million over 10 years. Commander Fotheringham began his career with the Sheriff's Office in 1989 and he has held assignments overseeing operations in almost every division within our agency. In 2019, while assigned to the Operations Support Division, Commander Fotheringham began looking into the use of leased vehicles from the Enterprise Fleet for the Santa Barbara Sheriff's Office. Based on Commander Fotheringham's extensive research, the Sheriff's Office decided to contract with Enterprise for the lease of over 100 vehicles which will result in a better product and service for the Sheriff's Office as well as save us hundreds of thousands of dollars that could be redirected to other needs.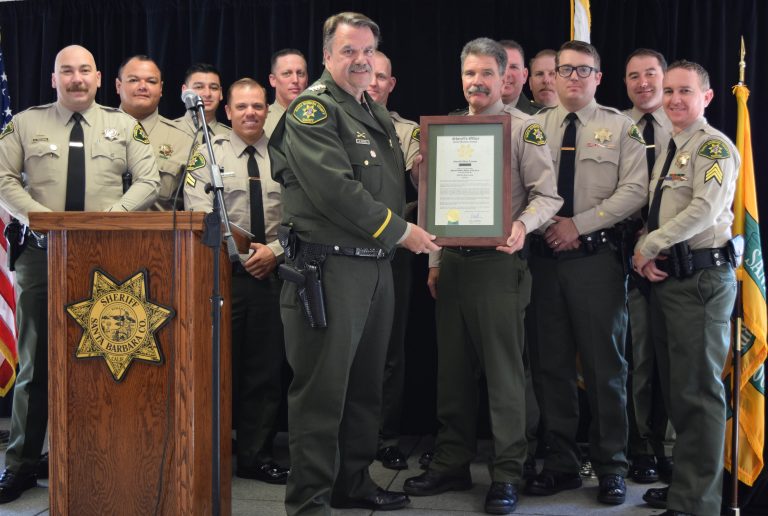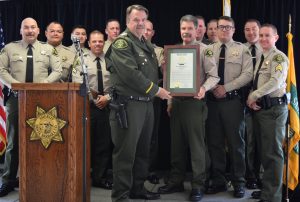 The Sheriff's Office Mobile Field Force (MFF) team was awarded a Unit Citation for their tireless efforts, adaptability, and outstanding performance during their deployments to outside counties. The MFF team was deployed to several mutual-aid requests in the Los Angeles, Santa Monica, Hollywood areas as well as to San Luis Obispo County to assist with on-going civil unrest, violent protesting and mass looting. The team also responded to the State Capital in Sacramento for the inauguration of the 46th President of the United States with the mission of structure protection in the downtown area immediately outside the capital building.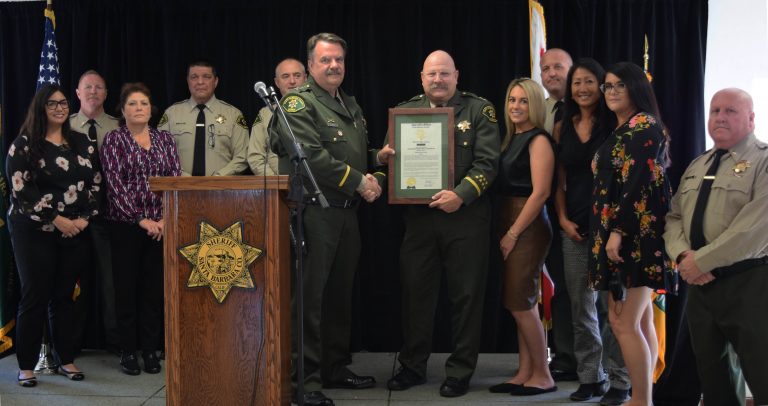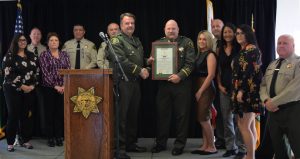 The Sheriff's Office Custody Branch was also awarded a Unit Citation for their tireless efforts, courage, and resilience during difficult and unprecedented times. As the County's second largest congregate living environment, COVID-19 has required an unprecedented level of flexibility by custody staff as they navigated constantly changing precautionary measures in a sustained effort to safeguard the inmates in their care as well as keeping themselves safe from the pandemic.
The Sheriff's Office congratulates and thanks all the award recipients for their exemplary service to the community.