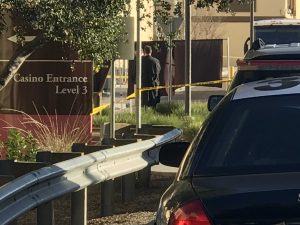 The Santa Barbara County Sheriff's Office is releasing additional details regarding the investigation into the fatal shooting of 37-year-old Jose Guido of Santa Barbara that occurred at approximately 2:15 a.m. on February 20, 2018 at the Chumash Casino Resort.
While the incident is still under investigation, Sheriff's detectives assigned to the Criminal Investigations Division determined that Guido was known to Chumash Casino Resort Security, as he had been permanently banned from the property in November of 2017.  Guido was trespassing on Casino property when he was contacted by Chumash Security Investigators in the parking structure of the Resort.  When Guido was told to leave the premises, a scuffle ensued.  During the struggle, Guido obtained the Chumash Security Investigator's taser and used it against him.  The Chumash Security Investigator subsequently shot Guido three times, causing fatal injuries.
An autopsy was conducted on February 21, 2018 and confirmed that Guido died as a result of gunshot wounds. An official cause and manner of death is pending toxicology and lab results.
Once the Sheriff's Office has completed the investigation, the case will be forwarded to the Santa Barbara County District Attorney's Office for review.