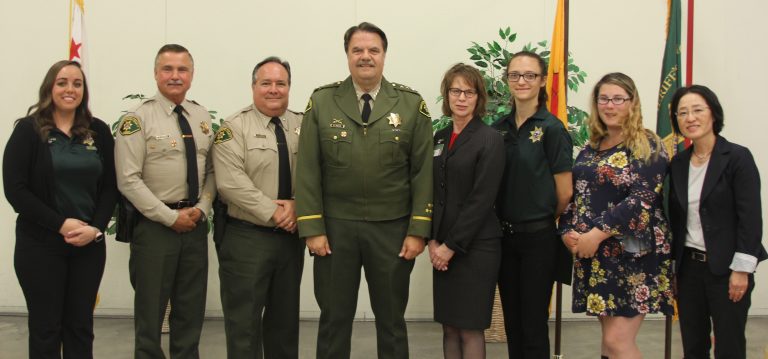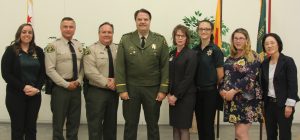 The Santa Barbara County Sheriff's Office welcomed four new employees and celebrated three promotions today, July 9, 2018, at a ceremony held at the Sheriff's Training Bureau.  Among the new hires were three Administrative Office Professionals and a Financial Office Professional. Among the promotions were a Sheriff's Commander, Lieutenant and an Administrative Office Professional Senior.
Shawn O'Grady, a 22-year Sheriff's Office veteran, was promoted to Sheriff's Commander and is now assigned to South County Operations.  Commander O'Grady started his career with the Santa Barbara County Marshall's Office working as a Municipal Court Bailiff and Civil Deputy before being sworn is as a Sheriff's Deputy in 1996.  During his time at the Sheriff's Office he has worked a number of assignments including patrol at stations throughout Santa Barbara County and as a detective, and after he was promoted to Lieutenant, he managed our Central Stations Patrol Bureau and was the Chief of Police Services for Solvang and Buellton.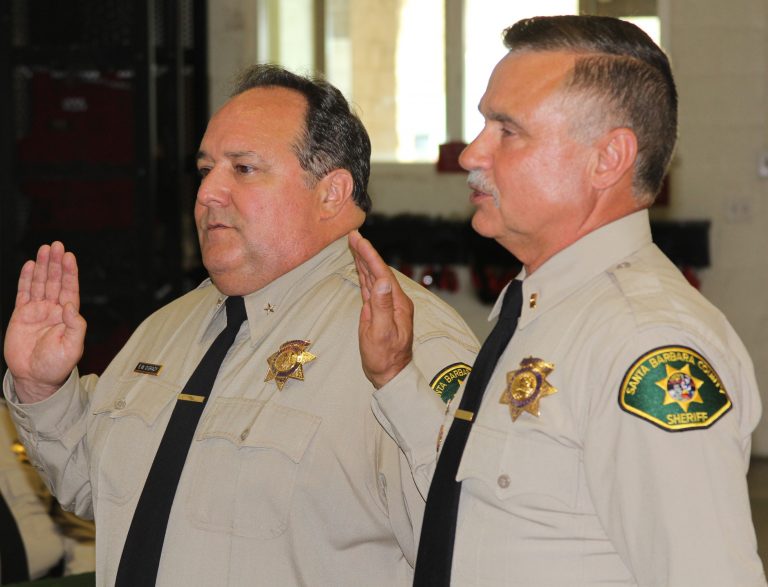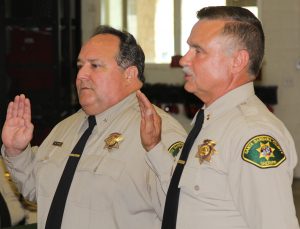 30-year Sheriff's Office veteran Greg Sanders was promoted to Sheriff's Lieutenant and will be assigned to oversee Contract Law.  Lieutenant Sanders started as a Reserve Deputy with the Sheriff's Office in 1987 and worked his first patrol shift on Halloween night in Lompoc.  He has had various assignments throughout his years of service including Gang Enforcement, South County Patrol, Criminal Investigations and most recently in the Training Bureau.
After three years of working in our Custody and Court Records Division, Delaney Loes was promoted to an Administrative Office Professional Senior and will continue her assignment in Custody Records.
In addition to the promotions, Sheriff Brown welcomed and gave Certificates of Appointment to our three new Administrative Office Professionals, Samantha Corsaw, Christina Rubio and Nicole Wilhoit, as well as our new Financial Office Professional Myunghee Kelly.
We congratulate those that were promoted today and we wish our new team members a great career ahead with the Sheriff's Office.
We are always looking for great people who want to make a difference to join our team.  If you are interested in a career with the Sheriff's Office we encourage you to visit our website at www.sbsheriff.org and go to the Join Us section. You can also visit our new Sheriff's Facebook Recruitment page at https://www.facebook.com/sbsorecruitmentteam/