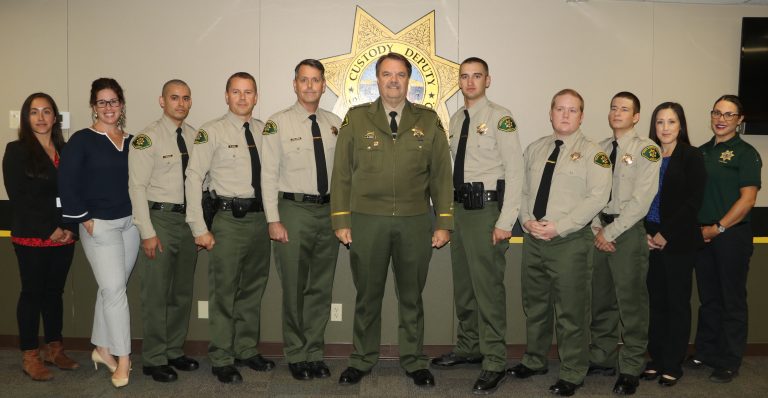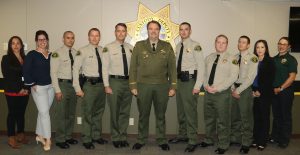 The Santa Barbara County Sheriff's Office is pleased to welcome ten new employees to our team.  On July 30, 2018, at a ceremony held at the Sheriff's Training Bureau classroom, we officially welcomed two Administrative Office Professionals, a Dispatcher, four Custody Deputies, two Sheriff's Deputies and our first ever-Behavioral Sciences Manager, Dr. Cherylynn Lee.
Dr. Lee began volunteering at the Sheriff's Office in 2015 as a Crisis Intervention Training (CIT) teacher.  She was hired in 2017 as extra help to develop our Behavioral Sciences Unit (BSU).  The Unit was formed to oversee cases involving mental illness and to develop a CIT team. The goal is to build community partnerships to help adopt restorative justice principals and divert individuals from the criminal justice system into appropriate services.  The BSU collaborates with other agencies to develop training programs and assist law enforcement and community members involved in these types of calls for service.
Sheriff Brown said, "We appreciate the County Board of Supervisors for approving funding for Dr. Lee's full-time position and for seeing that this important need in our county is met.  I have no doubt that Dr. Lee will continue to do the fine job full-time as she has been doing on a part-time basis."
Dr. Lee said, "I am truly humbled and excited to work alongside the brave men and women of the Sheriff's Office. I have seen our deputies and staff accomplish the impossible day after day and it's an honor to stand with them to support Santa Barbara County. Persons with mental illness are some of the most vulnerable members of our community and I look forward to building on the relationships we have made with our partner agencies to help ensure these persons are known and cared for."
The Sheriff's Office also welcomed and provided certificates of appointment to our new dispatcher Lindsay Williams and our two Administrative Office Professionals, Monica Alonzo and Chloe Rodenberger.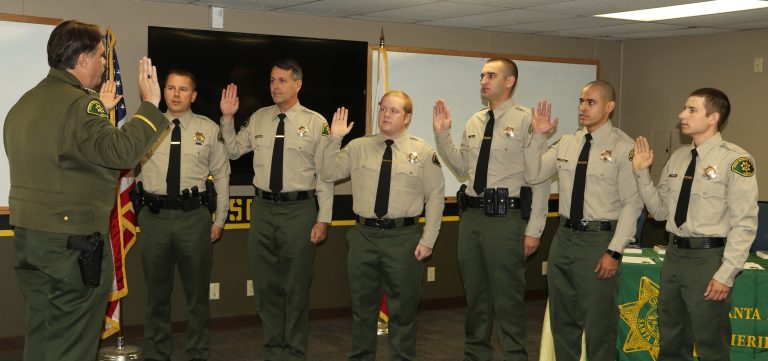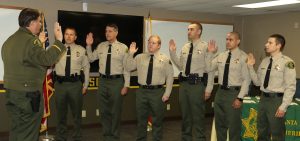 At the ceremony, the Sheriff also swore in four new custody deputies, Tyler Fielding, Ignacio Rosiles Jr., Zachary Salce and Edward Woods.
We also welcomed back Sheriff's Deputy Benjamin Sandu who returned to the Sheriff's Office after working in Medford, Oregon for several years and is currently assigned to Goleta Valley patrol.  We also hired retired CHP officer James Belanger who is now working extra-help as a bailiff.
We want to take this opportunity to wish all of our new colleagues a great career ahead with the Sheriff's Office.
We are always looking for people who want to make a difference to join our team.  If you are interested in a career with the Sheriff's Office, we encourage you to visit our website at www.sbsheriff.org and go to the Join Us section. You can also visit our new Sheriff's Facebook Recruitment page at https://www.facebook.com/sbsorecruitmentteam/