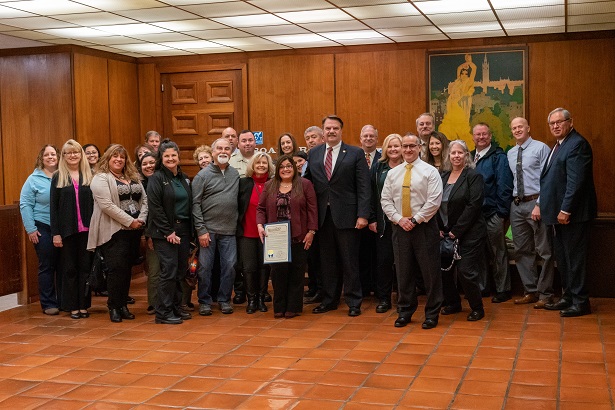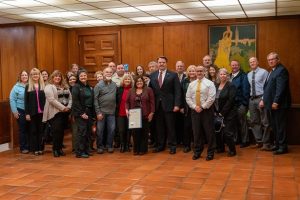 Santa Barbara, Calif. – This morning, at the Board of Supervisors meeting, Human Resources Recruiter Colleen Ryan was honored as the Santa Barbara County Employee of the Month. The Board of Supervisors presented her with a resolution that highlighted her professional achievements, including her help setting a hiring record of 107 Sheriff's Office employees last year. The Resolution also commended Ms. Ryan for her volunteerism with her church, her caring for foster animals, and her talent as gardener and florist that she shares by adorning colleagues' desks for birthdays and awards ceremonies.
Sheriff Brown noted that Ms. Ryan comes from a service-oriented family, with a father who served as a U.S. Marine and a 30-year L.A.P.D. veteran, a mother who is a Registered Nurse and a sister who also works for the Sheriff's Office in Custody Records. He then praised Ms. Ryan as an exceptional employee. "Not only is she conscientious, well organized, capable and driven, she is a warm, positive person who never fails to lift you up when you see her," he said, before congratulating her on this "well-deserved award."
Ms. Ryan humbly accepted her resolution and shared these thoughts: "My rewarding career at the Sheriff's Office affirms I am right where I'm supposed to be, which motivates me to impact the organization, provide excellent customer service and to do my best in all that I do. I've gained a Sheriff's family, the pleasure to support Sheriff's personnel and the public in their career goals' and I've heightened my own professional growth which I didn't even know I could achieve. Every day I never forget to count my blessings."
In closing, Ms. Ryan thanked her mentors and family before ending her remarks with a well-timed reminder that the Sheriff's Office is hiring.
If you or someone you know is interested in a rewarding career with the Sheriff's Office, and the chance to meet Ms. Ryan in the process, please visit our website- SBSheriff.org.