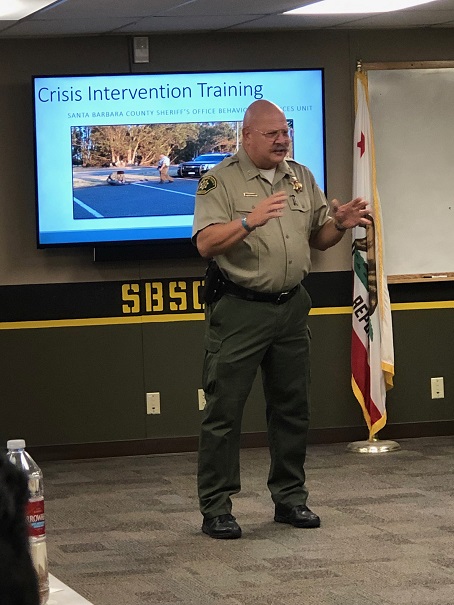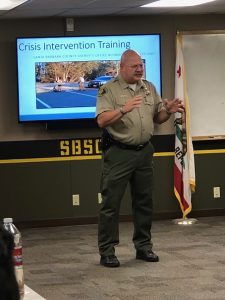 Santa Barbara – Santa Barbara County Sheriff's Custody Deputies and professional staff at the County Jail are receiving training this week in recognizing and responding to persons experiencing mental health emergencies while in custody.
The Santa Barbara Sheriff's Office, in its commitment to addressing the county's growing mental health concerns, developed the Behavioral Sciences Unit (BSU) to oversee cases involving mental illness, develop a Crisis Intervention Team and to build community partnerships to help adopt restorative justice principles to divert individuals from the criminal justice system and into treatment.  The unit, under the management of Dr. Cherylynn Lee, has developed a Crisis Intervention Team training curriculum certified by the State of California's Peace Officer Standards and Training (POST) and the states Standards and Training for Corrections (STC).  This training helps deputies in the field and within the county jail recognize persons in mental health crisis, or experiencing a mental health emergency.  Over a thousand law enforcement professionals throughout Santa Barbara County have attended this training which focuses on recognition, de-escalation and resources available to properly and effectively manage these often-difficult situations.
The training being conducted this week focuses exclusively on the custody environment, and the types of situations and incidents those working in the county jail may experience.  Twenty-five Custody Deputies and professional staff are in attendance, while fifty have already completed the training.  Course presenters include mental health professionals, subject matter experts, advocates and others to share information from a variety of perspectives.  Santa Barbara County Behavioral Wellness, Santa Barbara County Probation, The National Alliance on Mental Illness (NAMI), Band of Brothers and WellPath have all contributed to the success of this training.