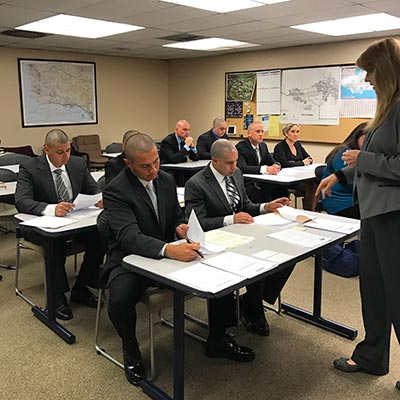 Application Process

The selection process may vary based on the requirements for the position and is clearly noted on the job announcement. The steps provided below are for the sworn Sheriff's Deputy Trainee and Custody Deputy positions.

Step 1 – Complete an Online Application:
For a list of current positions, we are accepting applications, Recruitment – Join Our Team.
Step 2 – Application and Supplemental Questionnaire: All applications will be reviewed to determine whether or not the stated employment standards are met as required. Applicants who meet the employment standards will be invited to continue in the next step in the selection process.
Step 3- Personal History Questionnaire (PHQ): The PHQ is a pre-screen questionnaire. Qualified candidates will be invited to complete and submit a PHQ. PHQs not received by the deadline will result in disqualification from the recruitment process. PHQs will be reviewed and given a Pass or Fail result. Candidates who pass the PHQ will advance to the Physical Agility Test (PAT).
PHQ document, SBSO Personal History Questionnaire
Step 4 – Physical Agility Test (PAT) Pass or Fail: The Physical Agility Test will measure a candidate's ability to perform the physical requirements of the job.
Step 5 – Written Examination: Candidates are required to pass a law enforcement examination as a step in the Civil Service testing process. We currently offer two types of examinations, an online exam through National Testing Network or an in person written exam called POST Entry-Level Law Enforcement Test Battery (PELLET B). The written exam is a Pass/Fail and the score will be used as your final score for placement on the Employment List.
Step 6 – Selection Interview:  Candidates placed on the Employment List will be evaluated to determine who will advance to a selection interview with the background investigation team. Candidates for selection will be scheduled for a polygraph examination.
Step 7 – Polygraph Examination: The polygraph examination will measure the accuracy of information submitted during the background investigation process. Upon passing a polygraph exam, candidate will be provided a Personal History Statement (PHS for Deputy Applicants) (PHS for Civilian Applicants).
It is important that all information an applicant provides is truthful and accurate. Omission of facts is considered to be untruthful. Dishonesty are grounds for disqualifications.
Step 8 – Background Investigation: This step typically takes 2 – 3 months to complete. Once a candidate reaches this phase, s/he will be assigned to a background investigator.
A background check includes but is not limited to the following:
Criminal History
Driving History
Education
Drug Use
Sex Crimes
Personal and Professional References
Credit Worthiness
Favorable Employment History
Military Service
Past Relationships
Character Reference
Social Media 
Step 9 – Conditional Job Offer
The following shall commence upon accepting a conditional offer of employment:

 Step 10 – Psychological Examination: The psychological exam is administered by a licensed psychologist. Candidates will be evaluated on the psychological factors related to successful performance to determine if a candidate is presently suited for the difficult stressfulness of the job. 
Step 11 – Physical Examination: The physical examination is conducted by a licensed physician. Candidates will be evaluated on the physical factors related to successful performance to determine if a candidate is presently suited for the physical demands of the job.
Step 12 – Appointment