LOOKING FOR AN EXCITING AND REWARDING CAREER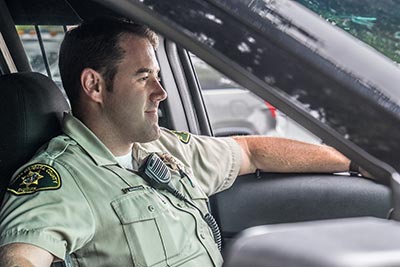 The Santa Barbara County Sheriff's Office has a rewarding career for you. We are dedicated to hiring the best qualified deputies and support staff personnel while striving to bring diversity to our organization that reflects the community we serve. We promote a positive work environment that encourages teamwork, communication and professional development.
We are actively recruiting highly motivated individuals for all positions in law enforcement. To accomplish this goal, we must hire and retain individuals who possess the highest level of honesty, integrity and ethics. If you have such qualities and desire to have a positive impact on the future, then the Santa Barbara County Sheriff's Office is the place for you! To learn more about careers with the Sheriff's Office, CLICK HERE
 

Apply Online Now!
OPEN RECRUITMENTS


See below a list of positions we are currently accepting applications for
Administrative Office Professional- Public Safety
TO APPLY, CLICK HERE
Under general supervision, working in the Main Jail facility in Santa Barbara or Northern Branch Jail in Santa Maria, processes new arrestees for booking into custody; verify bail amounts at booking; assists the general public by phone and in-person; scheduling court dates; processes inmate records to facilitate release or transfer; and performs related duties as assigned. Duties are performed in a locked-down facility and require direct and indirect contact with inmates.
Cook Sheriff's Institutions
TO APPLY, CLICK HERE
Food services is responsible for meal preparation of over 3,000 meals a day, 7 days a week, breakfast, lunch and dinner. The position is responsible for limited cooking in an oversight capacity, assigning, and instructing up to 25 inmates to do specific tasks that include slicing meat, making salads, staff cook, making special diet meals, kitchen helper, dishwashers, making sandwiches, and directed to other assignments as necessary. This requires checking with each inmate that they are following instructions and doing assignments correctly.
Communication Dispatcher I
TO APPLY, CLICK HERE
Dispatcher operates short-wave and computerized telecommunications equipment to receive, transmit, evaluate, and respond to emergency and non-emergency calls for information, services, and repairs by paging or dispatching the appropriate parties; maintains operating logs and records; performs other work as required. 
Custody Deputy
TO APPLY, CLICK HERE
This class is distinguished from Sheriff's Deputy in that incumbents have only limited peace officer power pursuant to Penal Code section 830.1 c, are not deputy coroners, and are not assigned to patrol or bailiff duties. Incumbents receive training in a correction officer academy rather than a basic law enforcement academy. This class is distinguished from Sheriff's Corrections Officer in that the latter is a terminal class; new hires will be made only to the Custody Deputy class. Incumbents will be required to carry a firearm on certain assignments, and to regularly qualify with firearms pursuant to department policy.
Emergency Communications- Call Taker
TO APPLY, CLICK HERE
This Call Taker position answers calls received in the ECC, determines the emergency or non-emergency nature of the call and routes it to the appropriate communications dispatcher or provides the appropriate assistance; this position is distinguished from the Communications Dispatcher I job class in that the Call Taker does not dispatch any appropriate routine or emergency personnel or equipment via radio or other electronic communications equipment, nor is this an on-the-job training job class where the incumbent is expected to move to the position of Communications Dispatcher after completion of their on-the-job training.
Food Services Supervisor
TO APPLY, CLICK HERE
Food Services Supervisor plans, organizes, supervises, and may participate in the preparation, cooking, and serving of food in County facilities; ensures nutritional value of meals served and compliance with County and state health regulations; negotiates and monitors vendor contracts; conducts nutritional analyses, keeps records and prepares reports, and assumes greater responsibility for planning, organizing, and supervising food services and for compliance with government mandates.
Sheriff's Deputy Trainee
TO APPLY, CLICK HERE
This is a trainee-level class attends a Peace Officer Standards and Training (P.O.S.T.) Academy to receive instruction designed to qualify trainees for the class of Sheriff's Deputy; expected to successfully pass the Law Enforcement Recruit Academy and receive the recommendation of the Sheriff and promote to Sheriff's Deputy or be terminated from the position.
Sheriff's Service Technician 
TO APPLY, CLICK HERE
Under general supervision, learns and performs a variety of responsible, non-sworn technical and clerical based administrative duties in the Sheriff's Office, within detention facilities, law enforcement facilities and in the field in support of sworn custody and law enforcement personnel; may assist non-sworn Sheriff's personnel, the public and/or other business-related needs of the Sheriff's Office; and performs related duties as required.

Storekeeper-
TO APPLY, CLICK HERE
Under general supervision, the selected candidate maintains the department's storeroom, including stocking of operational materials and supplies, inventory control and recordkeeping, and purchasing; moves office furniture and equipment; and performs related duties as required.  For the position in the Sheriff's Office, the selected candidate will work in multiple areas of law enforcement operations, including locked custody jail facilities.
LATERAL APPLICANTS FROM OTHER RECOGNIZED CALIFORNIA PUBLIC AGENCIES



The Santa Barbara County Sheriff's Office now offers a Lateral Hiring Incentive!!
HIRE- $10,000
PROBATION COMPLETION- $5,000
2 YEAR COMPLETION- $5,000


Sheriff's Deputy Lateral Transfer
If presently a permanent employee in another merit or civil service California public agency, in the same or similar position, and if appointed to that position by successful performance in a merit or civil service style examination, then you may be considered for as a Lateral Transfer. If interested, please email Human Resources at SheriffHR@sbsheriff.org. A HR representative will contact you to discuss the qualifications, testing process, and required documents.

Employment Interest Cards

 

CLICK HERE




To receive email notification when Sheriff's Office recruitments open, select the Job Categories Corrections and Law Enforcement.

Equal Opportunity Employer
The County of Santa Barbara and its leadership team is committed to maintaining a diverse workforce with equal opportunity that promotes inclusion and reflects the local population while ensuring compliance with state, local, and federal law. Its dedication to this purpose is driven by a commitment to hire, develop and retain top talent who will contribute to upholding the County's mission.