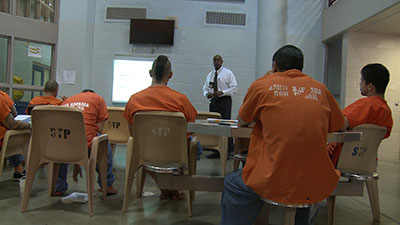 Programs and services for inmates at the Santa Barbara County Jail have been designed not only to enhance the safety and order of the jail, but to also improve long-term public safety by preparing inmates for success upon release. Inmates can participate in a wide array of opportunities and are provided a schedule of available programs.
Eligibility for program activities depends upon the inmate's security classification and other factors, such as sentencing status, length of stay, assessed needs, and behavior within the facility. These programs depend upon the cooperation and responsible behavior of those in attendance.
The Programs Unit is comprised of four areas: Community Outreach, Inmate Services, the Sheriff's Treatment Program, Reentry & Discharge Planning Services
Community Outreach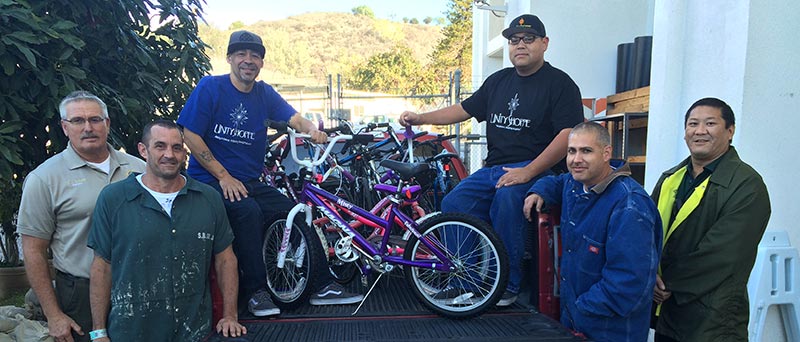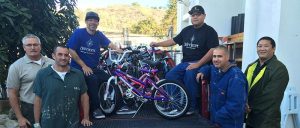 The Community Outreach Coordinator who works with our community religious organizations has established a cadre of volunteer chaplains who regularly provide spiritual guidance from over twenty-two different denominations to over 1000 inmates in Santa Barbara County Jail. All religious volunteers are required to attend an institutional mandated training relating to the Prison Rape Elimination Act (PREA) and security issues so that they may serve with excellence and meet the spiritual needs of the inmates with understanding of Jail Management requirements.
Spiritual guidance is available to all inmates regardless of housing restrictions.
All Bibles and spiritual literature is available to any inmate upon request and is provided through generous donations by local church and other organizations.
The Sheriff's Office has partnered with the Believer's Edge, a local, non-profit religious organization comprised of many local religious denominations to provide the Light's On service. Light's On offers compassion at release and provides a safe and secure waiting area for persons released from jail during the late evening hours. Snacks, refreshments, clothing, and guidance are provided to those that are in need.
A recent addition to our Community Outreach is volunteer programming. Weekly, numerous volunteers come into the jail to supplement our traditional programming. Organizations such as Alcoholics Anonymous (AA) and Narcotics Anonymous (NA) provide representatives that help the guidance of addiction issues. Prison Yoga Project Santa Barbara provides weekly practices in yoga, meditation and mindfulness to reduce the impact of stress and trauma of incarceration. Several self-awareness classes are also offered by our religious volunteers.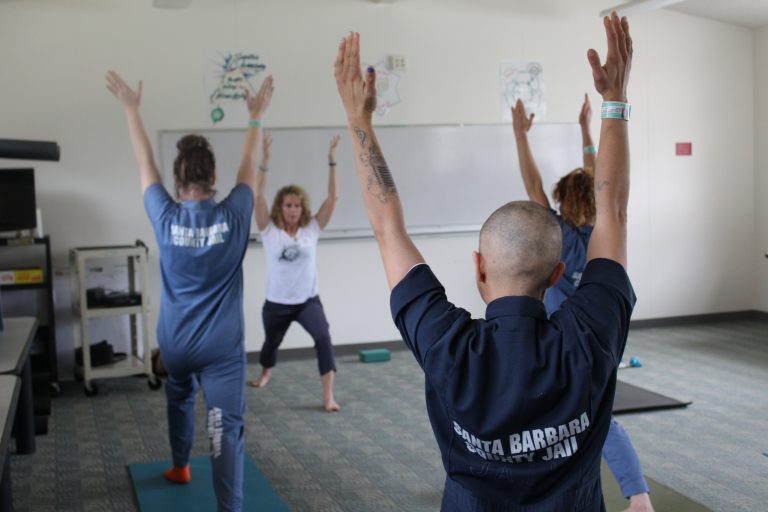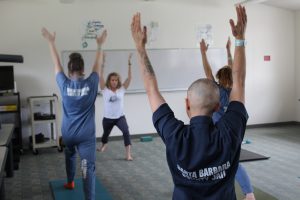 Inmate Services
Educational and Vocational Opportunities
Adult Basic Education
Through partnership with Santa Barbara City College (SBCC) inmates are provided classroom and computer instruction and preparation for those that need only a small amount of credits to earn a high school diploma or obtain a G.E.D. Certification (G.E.D. testing must be conducted on-line).
Continuing Education
We continue to develop classes that are suitable for a jail environment. As our partner, SBCC and the Programs Unit meet regularly to assess class type and attendance. Computer Literacy aids inmates in learning the proper aspects of computer operation, typing, creating documents and other skills necessary to help prepare them for the job market.
Personal Development Series
This is a credit earning class which partners an instructor from Santa Barbara City College (SBCC) with a class of inmates for 16 weeks. Board of Governor grants are utilized for the registration costs. This popular class allows students, many of whom have never registered for a college course, get a jump start on their education while incarcerated. Students who successfully complete this class have created a bridge to SBCC's Extended Opportunity Programs and Services (EOPS) division to help facilitate enrollment into their successful Transitions program and other educational avenues to help them re-enter the community.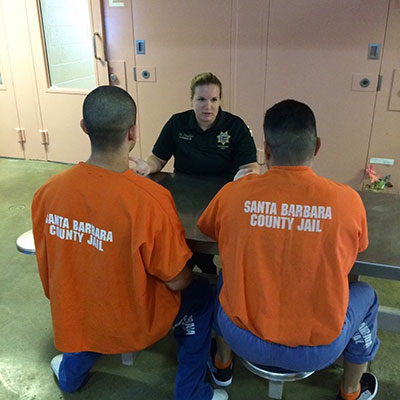 ServeSafe
In collaboration with SBCC, this ServeSafe vocational program provides culinary arts instruction and a certification required by the State of California. All food-handling establishments require ServSafe certification for employment. Inmates who successfully complete this program can join the culinary workforce upon release.
Library Services
The Sheriff's Office has cultivated a strong relationship with several Santa Barbara County Libraries that help support our need for reading materials. Paperback book donations are routinely provided by the libraries that supplement our supply of novels. Inmate Services also purchases reading books in Spanish in an effort to reach the diverse population we serve.
Indigent Services
The Sheriff's Office recognizes that not all inmates have access to funds. As part of the Inmate Welfare Special Revenue Fund, those persons identified as indigent shall be provided basic essential services free of charge. Indigent assistance programs include the following services:
Indigent Hygiene Pack
Indigent Welfare Pack
Legal Services
Indigent Transportation
Voting
Inmates incarcerated within Santa Barbara facilities must meet specific voting requirements in order that they may vote or register to vote in the State of California. The Santa Barbara County Registrar of Voters office is the ultimate authority in qualifying or denying a person to vote. Coordination of all voting efforts is made through Inmate Services.
Commissary Services
All inmates are afforded the ability to purchase items from commissary, provided they demonstrate good behavior. A variety of items are available for purchase from hygiene products, writing materials, games to confections.
Family and friends may also purchase a care package for those incarcerated only through the following link: http://icaregifts.com.
Inmate Telephone Services
The telephones are available from 7:00 a.m. to 10:00 p.m. daily. Inmates can make calls at any time during the hours of operations. Friends and family can leave a short message (30 seconds) for those incarcerated for only $1.00. Debit and pre-paid minutes may be purchased by friends and family through the following link: www.gettingout.com or call Telmate Customer Care @1-866-516-0115.
Sheriff's Treatment Program (STP)
The Santa Barbara County Sheriff's Treatment Program (STP) improves long-term public safety and reduces each participant's risk of recidivism by teaching effective, evidence-based interpersonal skills that guide the development of a pro-social lifestyle and change the behaviors that lead to criminality and other risky choices.
STP is separate from the educational and vocation opportunities available at the jail. As a stand-alone program, STP offers classes and services that meet the unique needs of those inmates most likely to return to custody due to extensive criminality, anti-social lifestyle choices, and limited pro-social opportunities and experiences. Inmate who are at high risk of reoffending are identified for this intensive in-custody program. Services and classes include:
Case Planning/Management
Cognitive Behavioral Training
Criminal & Addictive Thinking
Drug and Alcohol Education
Relapse Prevention
Anger Management
Release and Reintegration
Reentry & Discharge Planning Services
The Santa Barbara County Sheriff's Office offers discharge planning and assistance to inmates based on their individual levels of need. Case workers are assigned to assist with a variety of needs including program identification, transportation, housing resources, identification needs, Medi-Cal enrollment and coordination with community supervision agencies.
Inmate mail must have name and booking number of inmate.   Policy states that we require the name and CID.
Books are available through the publisher only. Inmates are permitted to purchase, receive and read any soft covered books or subscription periodicals (i.e., newspapers, magazines, etc.) that is purchased and sent directly from a publishing company or distributor and that is accepted for distribution by the U.S. Postal Service, but only if those items meet the standards and criteria set forth in this policy.