As a Custody Deputy with the Sheriff's Office, you will become part of a team, dedicated to enhancing the quality of life for citizens of Santa Barbara County. Every day when you put on your uniform, you will make the community safer and secure. Make a Difference – Join our Team!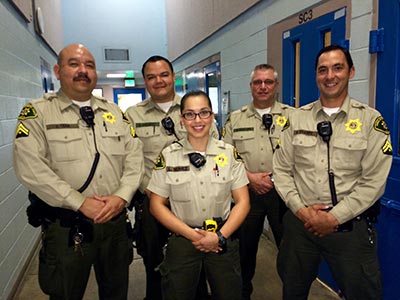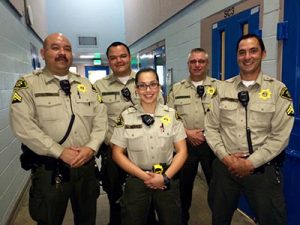 CUSTODY DEPUTY –  CORRECTIONS FACILITY
SALARY / BENEFITS
$76,131.88 – $91,875.02 Annually

RECRUITMENT NOW OPEN….CLICK HERE to apply
POSITION: Under general direction, maintains custody and supervises the work and conduct of inmates in detention facilities and performs related duties as required.
DISTINGUISHING CHARACTERISTICS: This class is distinguished from Sheriff's Deputy in that incumbents have only limited peace officer power pursuant to Penal Code section 830.1(c), are not deputy coroners, and are not assigned to patrol or bailiff duties. Incumbents will be required to carry a firearm on certain assignments, and to regularly qualify with firearms pursuant to department policy.
EXAMPLES OF DUTIES: Instructs and oversees the work of a group of inmates assigned to maintenance, operational, or other rehabilitative activities; supervises the conduct of inmates during the booking process, in housing and at meals, during recreation and on work assignments; supervises family and professional visits to inmates; inspects credentials and incoming and outgoing mail; inspects living areas of inmates to insure cleanliness, orderliness and compliance to jail regulations; exercises influence for the purpose of modifying anti-social behavior and attitudes of inmates; prevents escapes, injuries and the destruction of property; searches for contraband; may receive and release prisoners; submits reports and prepares correspondence; types reports and letters, and transports prisoners and guards prisoners at hospitals and other off-site locations as directed.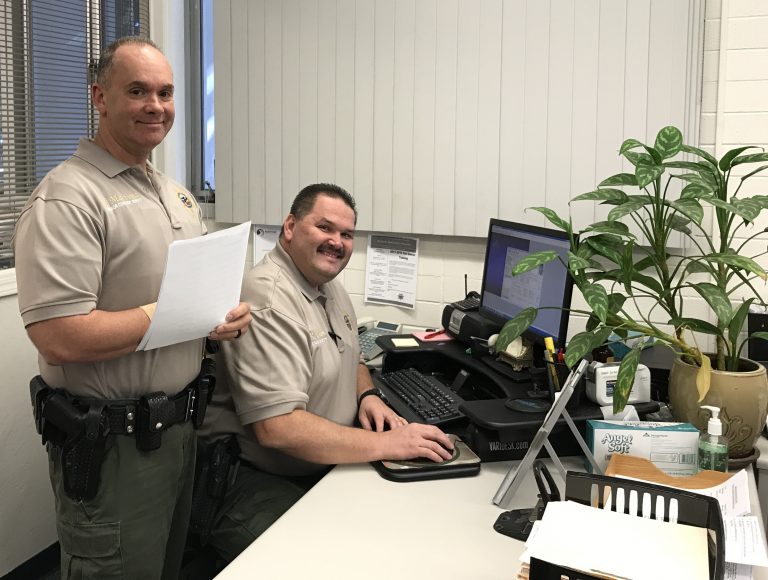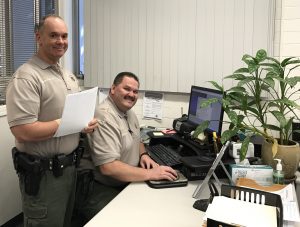 EMPLOYMENT STANDARDS
1. Education: Graduation from high school or G.E.D. test indicating high school graduation level.
2. Age: 18 years or older.
3. Physical Fitness: Good physical condition with the ability to pass a comprehensive medical examination based on County of Santa Barbara medical standards, and the ability to pass a job-related physical agility examination.
Ability to: understand and follow laws, policies, rules and regulations; supervise and deal with inmates; work effectively under stress and adapt to changes; learn the use and care of firearms; establish and maintain effective working relationships with others; maintain jail safety and security; make decisions with a minimum of supervision; write clear and comprehensive reports; oversee the work of others; type with sufficient speed and accuracy to perform duties as assigned.
Additional Requirements:

U.S. Citizenship or permanent resident alien who is eligible for and has applied for citizenship.

Possession of a valid California Class C Driver's License at time of appointment.

Within the probationary period, incumbents must successfully complete training in a Correction Officer Academy and any other training deemed necessary by the Sheriff's Department.

Must meet minimum peace officer standards as specified in California Government Code Sections 1029 and 1031 including but not limited to the following: must have no prior felony convictions (unless fully pardoned), good moral character as determined by thorough background check; must submit fingerprints for purpose of a criminal record check and be found free from any physical, emotional or mental condition which might adversely affect the powers of a peace officer.

BENEFITS: The County of Santa Barbara offers generous benefits, CLICK HERE
RECRUITMENT SELECTION PROCESS:
1. Application and supplemental questionnaire
2. Personal History Questionnaire (PHQ) – Pass/Fail
3. Physical Agility Test – Pass/Fail
Physical Agility Test consists the following: 
1.0 mile run in under 11:00 minutes.
99-yard obstacle course in 25 seconds or less.
Maximum number of sit-ups in two (2) minutes

.

Maximum number of push-ups in no time limit.

Maximum number of pull-ups in no time limit.
4. Written Examination –
POST Entry-Level Law Enforcement Test Battery (PELLETB)
Written Examination consists of multiple-choice questions in the areas of Writing, Reading Comprehension, and Reasoning Abilities.  The study guide is available at www.post.ca.gov. Click on Recruitment and Selection, then on Information for Job Applicants, then on Application Preparation Guide for the POST Entry-Level Test Battery.
The following is a direct link:  http://lib.post.ca.gov/Publications/poWrittenPracticeTest.pdf
BACKGROUND INVESTIGATION PROCESS:
The Sheriff's Office conducts a polygraph examination and in-depth background investigation. Incumbent must successfully pass the following:
Polygraph Examination will measure the accuracy of information disclosed during the background investigation process.

Background Investigation includes an interview and in-depth background investigation of police records, personal, military, and employment histories; inquiry of persons who know you and evaluate whether you respect the law and rights of others; are dependable and responsible; have demonstrated mature judgment in areas such as the use of drugs and intoxicants; are honest; and is a safe driver.
The following shall commence upon accepting a conditional offer of employment:
1. Psychological Examination is given by a licensed psychologist. You will be evaluated on the psychological factors related to successful performance to determine if you are presently suited for the difficult and stressful job of a dispatcher and to otherwise ensure that the candidate is capable of withstanding the psychological demands of the position.
2. Physical Examination is conducted by a licensed physician. The medical evaluation or examination shall commence once you accept a conditional offer of employment. You will be evaluated on the physical factors related to successful performance to determine if you are presently suited for the physically demanding job of a custody deputy.