TO SUBMIT AN ONLINE APPLICATION, CLICK HERE
COMMUNICATIONS DISPATCHER I
$64,327.13 – $77,526.07 Annually
P
OSITION:
Under close supervision operates short-wave radio and computerized telecommunications equipment to receive, transmit, evaluate, and respond to emergency and non-emergency calls for information, services, and repairs by paging or dispatching the appropriate parties; maintains operating logs and records; performs other work as required.
DISTINGUISHING CHARACTERISTICS:
Communications Dispatcher I/II is a flexibly staffed series. Communications Dispatcher I is the entry-level class and incumbents receive close supervision and on-the-job training in dispatching procedures and operations. The Communications Dispatcher II is the journey-level class. Incumbents work with limited supervision, may serve as a lead worker in the absence of a supervisor, and make decisions for a group on a shift. These classes are distinguished from other clerical classes by the requirement to receive and transmit information through the use of a computer aided dispatch (CAD) system on a continuous basis.    
EXAMPLES OF DUTIES:
Receives non-emergency and emergency requests (including 911 calls) for sheriff/fire protection, medical, or emergency services; and obtains relevant information and inputs data, evaluates and prioritizes calls for service and dispatches appropriate personnel and equipment.
Using a computer aided dispatch (CAD) system, monitors and updates fire, ambulance, and sheriff unit location and status in order to coordinate emergency field operations; provides backup support and information as necessary by operating a two-way radio; requests additional assistance from other agencies as necessary; and obtains computerized law enforcement information from local, state, and federal data banks through a telecommunications terminal.
Types reference cards, logs, reports, procedure manuals, and other documents; maintains files and reference manuals; and performs other clerical duties.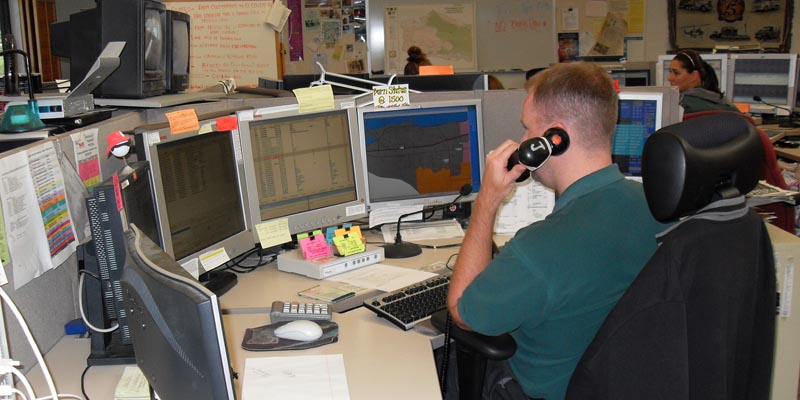 EMPLOYMENT STANDARDS:
1. Graduation from high school or equivalent and one year of experience in the operation of a telephone switchboard or communications equipment OR one year of general office work involving extensive public contact in person or over the phone; or,
2. A combination of training, education, and experience that is equivalent to the employment standard listed above and that provides the required knowledge and abilities.
ADDITIONAL REQUIREMENTS: Incumbents must be able to type 35 wpm; work rotating 10-hour shifts; successfully complete the Post-Certified Basic Complaint/Dispatcher course during the one-year probationary period; appointee must satisfactorily complete a probationary period.
KNOWLEDGE OF: methods of handling difficult public contacts.
ABILITY TO: retain and relay information received under stressful conditions; speak over the phone and radio clearly and in a professional manner; hear, understand and speak the English language; respond to calls quickly and calmly and make sound decisions under pressure; communicate with people of diverse social and cultural backgrounds; follow written and oral instructions; establish and maintain working relationships with other agencies; operate computer and typewriter keyboards; read maps and give directions; keep detailed records; learn Federal, State, and local laws, terminology, and jurisdictional boundaries, and available types of emergency services.
BENEFITS:
The County of Santa Barbara offers generous benefits, please visit our website at
CLICK HERE
.
RECRUITMENT SELECTION PROCESS:
1. Application and supplemental questionnaire
2. Personal History Questionnaire (PHQ)
3. CritiCall Computerized Exam: The CritiCall exam is a computerized software testing program that tests job-related skills and multi-tasking abilities required in the complex dispatching environment. Candidate is required to take the Criticall exam in person. 
Candidates must receive a percentage score of at least 70% on the CritiCall exam to be placed on an employment list. An adjustment may be made to raw scores based on factors listed in Civil Service Rule VI. Those candidates who are successful in the selection process will have their names placed on the employment list for a minimum of three months. At the time the employment list is established, all candidates will receive written notice of their score on the exam(s), rank on the employment list, and exact duration of the employment list. The Human Resources Department will notify you by mail if your name is removed.
BACKGROUND INVESTIGATION PROCESS:  The Sheriff's Office conducts a polygraph examination and in-depth background investigation. Incumbent must successfully pass the following:
Polygraph Examination will measure the accuracy of information disclosed during the background investigation process. 
Background Investigation includes an interview and in-depth background investigation of police records, personal, military, and employment histories; inquiry of persons who know you and evaluate whether you respect the law and rights of others; are dependable and responsible; have demonstrated mature judgment in areas such as the use of drugs and intoxicants; are honest; and is a safe driver.
The following shall commence upon accepting a conditional offer of employment:
1. Psychological Examination is given by a licensed psychologist.  You will be evaluated on the psychological factors related to successful performance to determine if you are presently suited for the difficult and stressful job of a dispatcher and to otherwise ensure that the candidate is capable of withstanding the psychological demands of the position.
2. Physical Examination is conducted by a licensed physician. The medical evaluation or examination shall commence once you accept a conditional offer of employment. You will be evaluated on the physical factors related to successful performance to determine if you are presently suited for the physically demanding job of a dispatcher.
For an entry level position in the Emergency Communication field, the Call Taker position is another career opportunity. CLICK HERE