Are you looking for an Exciting and Fast-Paced Work Environment?
Are you looking for opportunities for Advancement and Specialization?
Are you looking to Help People in Need?
 THEN A CAREER IN PUBLIC SAFETY AS A 911 DISPATCHER IS THE CAREER FOR YOU AND A CHANCE TO MAKE A DIFFERENCE!!!
COMMUNICATIONS DISPATCHER I/II 
 SALARY
$68,182 – $82,115 Annually
TO SUBMIT AN ONLINE APPLICATION, CLICK HERE
POSITION: Under close supervision answers calls received in the Sheriff's Office Public Safety Dispatch Center or the Fire Department's Regional Fire Communications Center (RFCC) and operates a public safety radio system and computerized telecommunications equipment to receive, transmit, evaluate, and respond; operates short-wave radio and computerized telecommunications equipment to receive transmit, evaluate, and respond to emergency and non-emergency calls for information, services, and repairs by paging or dispatching the appropriate parties; maintains operating logs and records; performs other work as required.
DISTINGUISHING CHARACTERISTICS: Communications Dispatcher I/II is a flexibly staffed series.   Communications Dispatcher I is the entry-level class and incumbents received close supervision and on-the-job training in call taking and dispatching procedures and operations.  The Communications Dispatcher II is the journey-level class where incumbents work with limited supervision, may serve as a lead worker in the absence of a supervisor, and make decisions for a group on a shift. 
Work Environment: The Dispatch Center is a countywide answering point for the 9-1-1 emergency telephone system. Public safety agencies that directly use the Dispatch Center are the County Sheriff's Office, the County Fire Department, the County Contract ambulance company, local cities, and federal agencies. The Dispatch Center is a 24-hour / 365-day facility and is administered by the Santa Barbara County Sheriff's Office.
The Dispatch Center receives approximately 160 calls daily for service on the 9-1-1 emergency system. In addition to 9-1-1 calls, the center answers approximately 840 calls daily on many other emergency lines. This equals approximately 324,000 calls per year; staff includes 24 Dispatchers, 6 Dispatch Supervisors, a civilian Operations Manager and a Sheriff's Commander. As a new dispatcher, you will have the opportunity to gain a wealth of knowledge and experience.
A Communication Dispatcher plays a vital role in the delivery of public safety and functions as a nexus between the community, law enforcement and allied agencies, and public safety field personnel. Their role is largely one of information processing – obtaining, evaluating, and disseminating information regarding crimes, emergencies, and requests for public safety services – information that is often critical to the safety of both the public and law enforcement personnel. The conditions under which this role is carried out are often quite demanding with respect to both cognitive and non-cognitive skills and qualities.
 
Memorization: Remembering the details of a recent incident or related incidents; remembering procedures for handling various types of complaints and incidents, as well as for operating communications equipment and systems; remembering various codes and abbreviations (e.g. radio, legal); and remembering geographical boundaries and significant common locations.
 
Speed of closure: Evaluating initial information and quickly determining whether an incident is an emergency; receiving multiple radio transmissions in rapid succession and determining that they pertain to the same incident; and taking several calls reporting different parts of the same incident and quickly combining the information to gain an overall picture of what happened.
 
Perceptual Speed: Quickly comparing and verifying names, locations and descriptions received by radio, telephone, or in written form (e.g. checking a detainee's description against a wanted list or date base inquiry); and quickly comparing incident information to determine if different calls are related.
 
Selective Attention: Taking calls and dispatching field personnel from within a noisy, distracting work environment (e.g. taking a complaint from a citizen while other phone lines are ringing, other dispatchers are receiving emergency calls, teletype messages are printing, or dispatching field personnel to an incident while other unrelated personnel are transmitting on the same frequency.)
 
Multi-tasking: Handling multiple calls for assistance at the same time; taking a complaint while monitoring radio traffic, teletypes; coordinating the response of multiple field units to an incident or several ongoing incidents; monitoring multiple radio channels at the same time; and tracking the status of field personnel while performing other duties (e.g. taking complaints or dispatching).
 
Using Resources & Equipment: Uses appropriate automated data bases (e.g. vehicle, criminal history, driver's license, wants and warrants, stolen property, gun, and various specialized data bases) and reference material (codes, wanted lists, directories, manuals, etc.) to obtain or accurately update information. Uses telephone system and related equipment, radio broadcasting equipment, and/or computer-aided dispatch (CAD) system properly when receiving and dispatching calls for service.
Training can last anywhere from 9 months to 11 months, depending on many factors including the rate at which the new employee learns and retains information. Classroom instruction, practical application in the form of on-the-job-training, field trips, projects, tests, and self-study methods are all used in order to facilitate the new employee's learning process. Throughout the Training Program, both the Dispatch Training Officer and the Trainee are expected to maintain a daily log of activities documenting concepts presented successes and achievements for each day, and areas in need of improvement. During the probationary period, the new employee will also receive quarterly evaluations as required by the Department and the County.
The Training Program is divided into phases, including Orientation, Calltaking/Phones, Sheriff Support Frequency, Sheriff Primary Frequency, Polishing, and Shadowing. Each of these phases has a varying amount of time allotted, which is necessary due to the aforementioned factors. Some phases may be taught concurrently, such as Calltaking/Phones and Sheriff Support Frequency.
 
A new Trainee must satisfactorily complete and pass each phase. If a Trainee fails to meet the required elements for any particular phase based on the Program Expectations, the employee may be terminated.
 EXAMPLES OF DUTIES:
Receives non-emergency and emergency requests (including 9-1-1 calls) for sheriff/fire protection, medical, or emergency services; and obtains relevant information and inputs data, evaluates and prioritizes calls for service and dispatches appropriate personnel and equipment. 

Using a computer aided dispatch (CAD) system, monitors and updates fire, ambulance, and sheriff unit location and status in order to coordinate emergency field operations; provides backup support and information as necessary by operating a public safety radio system; requests additional assistance from other agencies as necessary; and obtains computerized law enforcement information from local, state, and federal data banks through a telecommunications terminal.

Maintains reference cards, logs, reports, procedure manuals, reference manuals, files, and other documents; and performs other clerical duties.

Coordinates communications between multiple units, agencies and jurisdictions, including aircraft responding to fire and emergency medical incidents.

Simultaneously monitors and transmits on multiple radio channels and multiple transmitters; and maintains contact with and monitors status of field units.

Could be expected to testify in court. 

Utilizes CLETS to determine and confirm information and enters and removes information. (Sheriff's Office Only)

Utilizes established Emergency Dispatch protocols to provide pre-arrival medical and fire instructions to callers and follows established protocols for Priority Medical/Fire Dispatch program. (Fire Department Only)

Utilizes System Status Management protocols to ensure optimum geographic coverage through deployment of resources by type; monitors diversion status of area hospitals and specialized units within each hospital. (Fire Department Only)

Performs specialized dispatch functions related to the responsibilities of a CAL-EMS Mutual Aid Operations Area Coordinator Dispatch Center, and specialized functions of a CAL-Fire Contract County Dispatch Center. (Fire Department Only)

Operates specialized computer systems to prepare, input, and obtain state/regional fire or emergency medical services activity, resource deployments and daily fire weather information through the Weather Information Management System (WIMS) and the Interagency Resource Ordering Capability (IROC). (Fire Department Only)

Performs related duties as assigned.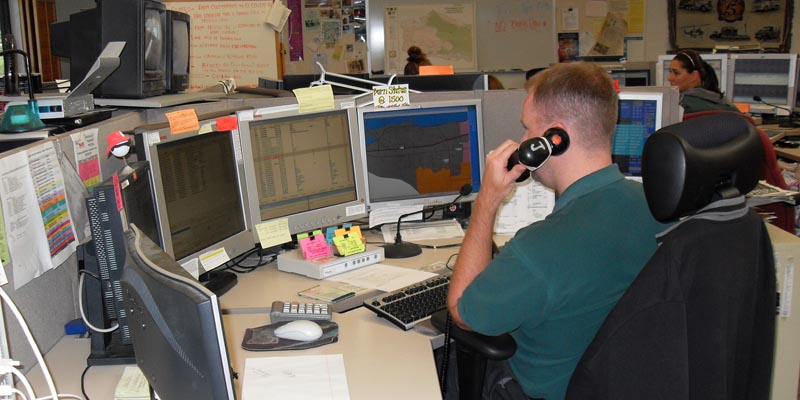 EMPLOYMENT STANDARDS:
Possession of a High School Diploma or GED

AND

any combination of experience, education and/or training, which demonstrates possession of the required knowledge and abilities listed below.
ADDITIONAL REQUIREMENTS:
Incumbents must be able to type 35 wpm; work rotatingshifts including nights and weekends; work overtime as required to ensure operational stability of the communications center; must be able to pass a work-simulated, computer-based performance test, a background investigation (including a polygraph examination and credit check for the Sheriff's Office), psychological evaluation and medical exam.  Work is performed in a dispatch center and requires sitting for long periods of time, extensive keyboarding, operation of a mouse, wearing of a headset, and working in a fast-paced and demanding environment.
Additional Requirements Sheriff's Office: Successful completion of a California Peace Officer Standards and Training (POST) Certified Basic Complaint/Dispatch course during the one-year probationary period.
KNOWLEDGE OF:English language; basic customer service practices; and basic office computer applications such as Microsoft Office applications.
ABILITY TO: Learn to retain and relay information received under stressful conditions; hear, understand, and speak the English language; respond to calls and radio transmissions quickly and calmly and make sound decisions under pressure; learn to observe, receive, and otherwise obtain information from all relevant sources; learn to analyze information, evaluate results, and choose the best solution; solve problems; learn Federal, State, and local laws, and also local agency policies and procedures, terminology, jurisdictional boundaries, and available types of emergency services; to read maps and provide directions; clearly speak and communicate effectively over the telephone and radio; remain calm in stressful situations; perform multiple tasks simultaneously; learn use of multiple computer and telephone systems; communicate with people of diverse social and cultural backgrounds; follow written and oral instructions; establish and maintain working relationships with other agencies; and operate a telephone, computer, mouse, and keyboard.
DESIRABLE QUALIFICATIONS: Multilingual in languages spoken in the County such as Spanish, Mixtec, Hmong or others relevant languages.
TO SUBMIT AN ONLINE APPLICATION, CLICK HERE
RECRUITMENT SELECTION PROCESS
Application and Supplemental Questionnaire
OnlineSkills Assessment Keyboarding Exam
CritiCall Computerized Online Exam

:

Candidates that meet the employment standards will be invited by email to the CritiCall exam online. The CritiCall exam is a computerized software testing program that tests job-related skills and multi-tasking abilities required in the complex dispatching environment. Candidates are required to pass the CritiCall exam to advance in the recruitment selection process. 
Candidates must receive a percentage score of at least 70% on the CritiCall exam to be placed on an employment list. An adjustment may be made to raw scores based on factors listed in Civil Service Rule VI. Those candidates who are successful in the selection process will have their names placed on the employment list for a minimum of three months. At the time the employment list is established, all candidates will receive written notice of their score on the exam(s), rank on the employment list, and exact duration of the employment list. The Human Resources Department will notify you by mail if your name is removed.
BACKGROUND INVESTIGATION PROCESS: The Sheriff's Office conducts a polygraph examination and in-depth background investigation. Incumbent must successfully pass the following:
BACKGROUND DISQUALIFIERS:
An admission of having committed any act amounting to a felony within five years in California, or in another state which would be classified as a felony in California

An adult felony conviction in California, or with a conviction for an offense in another state which would be classified as a felony in California

Currently on Probation or Parole

Adult felony and/or misdemeanor conviction(s) may be disqualifying depending on type, number, severity, and how recent

Conviction of/or sustained petitions for any sex crime

Recent use and/or possession of illegal drugs; Failure to reveal prior use will be disqualifying

Unfavorable work history

Poor credit history

History of committing domestic violence

Dishonesty or failure to reveal pertinent information
Personal History Questionnaire (PHQ) candidates placed on the employment list and who select Sheriff's Office for employment, will receive an email invite to submit a Personal History Questionnaire. Candidate must pass the PHQ step to advance in the selection process.
Polygraph Examination will measure the accuracy of information disclosed during the background investigation process. 
Background Investigation includes an interview and in-depth background investigation of police records, personal, military, and employment histories; inquiry of persons who know you and evaluate whether you respect the law and rights of others; are dependable and responsible; have demonstrated mature judgment in areas such as the use of drugs and intoxicants; are honest; and is a safe driver.
Live Scan is an electronic fingerprint scanning that is certified by the State Department of Justice. 
The following shall commence upon accepting a conditional offer of employment:
1.Psychological Examination is given by a licensed psychologist.  You will be evaluated on the psychological factors related to successful performance to determine if you are presently suited for the difficult and stressful job of a dispatcher and to otherwise ensure that the candidate is capable of withstanding the psychological demands of the position.
Physical Examination is conducted by a licensed physician. The medical evaluation or examination shall commence once you accept a conditional offer of employment. You will be evaluated on the physical factors related to successful performance to determine if you are presently suited for the physically demanding job of a dispatcher.
FOR RECRUITMENT QUESTIONS, PLEASE EMAIL RECRUITER MS. RYAN at cbr4686@sbsheriff.org
*****The Sheriff's Office is also accepting applications for the Emergency Communication Call Taker position. To review the job bulletin or to apply,CLICK HERE