The Coroner's Bureau provides a critical service to our community.  Our Sheriff's Coroner's Unit is made up of a team of professionals who are responsible for all death investigations in Santa Barbara County regardless of jurisdiction.  It is the Coroner Bureau's duty to inquire into all deaths that occur in the County of Santa Barbara where the deceased has not been seen or has not been under the care of a licensed physician for 20 days prior to death.  Our Coroner's Bureau reviews approximately 1500 deaths and conducts between 700 and 800 death investigations annually.  Most importantly, they are thorough and compassionate during these often emotional and difficult death investigations and are committed to providing answers to loved ones.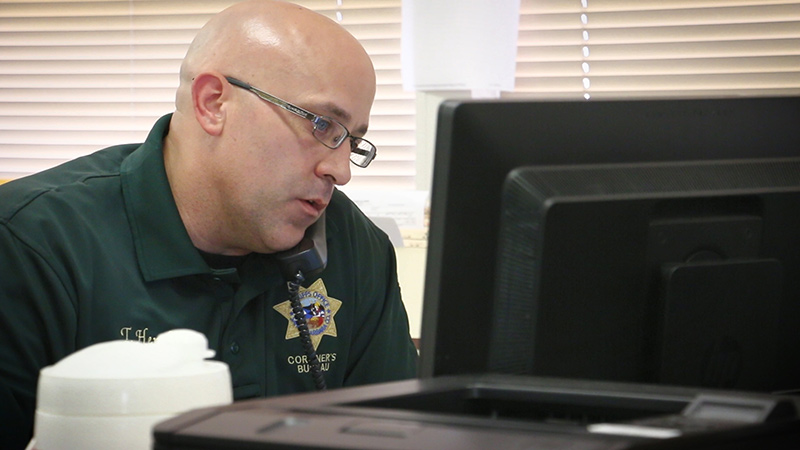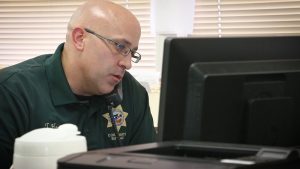 Santa Barbara County has had a Sheriff-Coroner fulfilling the Coroner's responsibility since 1947. Sheriff John Ross became the first Santa Barbara County Sheriff-Coroner and today Bill Brown is the Sheriff-Coroner. The Santa Barbara County Coroner's Office is currently staffed by a Sergeant who is the supervisor, four Coroner's Investigators, one full time Pathologist, two extra-help technicians, and one Administrative Office Professional.
Coroner Investigators receive specialized training and respond to reported death scenes to determine the circumstances surrounding a death. Coroner Investigators are required to determine and establish an accurate cause of death. This is accomplished through the review of medical records, conferring with medical staff, conducting medical and forensic examinations, and reviewing toxicology results.
What Constitutes a Coroner's Case?
The following categories of death are immediately reportable to the Coroner:
1. All deaths from known or suspected homicide.
2. All deaths by known or suspected suicide.
3. All deaths resulting from known or suspected accident, old or recent.
4. All deaths involving known or suspected criminal action.
5. All deaths from poisoning, or related to substance abuse.
6. All deaths while in jail or police custody.
7. All deaths at State mental hospitals.
8. All deaths related to occupational diseases or hazards.
9. All deaths wherein the decedent has not been attended by a physician within the 20 days preceding death.
10. Any death in which a physician is unable to reasonably state a cause of death. (Note: Unwillingness is not sufficient reason.)
11. All deaths involving suspected contagious diseases constituting a public hazard.
12. All deaths of unidentified persons.
13. All deaths suspected to be from Sudden Infant Death Syndrome (SIDS).
Immediate reporting of the above listed deaths will assure compliance with the statutory provisions of California Government Code 27491 and Health and Safety Code 102850.
The Coroner is responsible for determining three primary things:
1. Circumstances
What was happening at the time the person died? What were the circumstances surrounding the death?
2. Manner
Was the death Natural, Accidental, Suicidal, Traffic Related, Homicidal, or Undetermined? This is also known as the classification of the death and is noted on the death certificate.
3. Cause
What is the medical reason for the death? This cause of death will be used on the death certificate.
Frequently Asked Questions:
Why is the Coroner involved in the death of my loved one?
The Coroner is required by state law to investigate all unnatural deaths, or deaths where the attending Medical Doctor is unable to state a cause of death as well as cases where the deceased has not been seen by a doctor for 20 days prior to death. Our responsibility is to establish positive identity of the deceased; determine the place, date and time; and the cause and classification of death. The Coroner's investigation is not limited to the examination of the deceased, but may include interviews with family members and other witnesses, the collection of physical evidence, and the safeguarding of personal property found at the death scene.
Where is my loved one being taken?
When necessary, your loved one is transported to the Santa Barbara County Coroner's Office in Santa Barbara or Santa Maria for safekeeping, and later released to the family's authorized funeral home or cremation service.
Can I see my loved one at the coroner's office?
The coroner's office does not have the facilities for public visitation. The deceased will be released to a funeral home for viewing. For further information on your loved one's specific details, please contact the handling investigator.
What do I do now?
Contact the funeral home of your choice. They are prepared to assist you in making your selections and decisions. They will work closely with us to arrange the release of your loved one from our facility. They will also guide you in deciding how many certified copies of the death certificate that you will need & order them for you when they file with the county.
Is an autopsy needed?
Autopsies are not always necessary with every death investigated by the coroner. Roughly 3/4 of all deaths investigated by this coroner's office do not involve an autopsy examination. Autopsies are performed only on those cases where it is required by law or where it is necessary to determine the cause of death.
When can I have the funeral?
The Coroner will complete the examination portion of the investigation as soon as possible. For further information on your loved one's specific details, please contact the handling investigator. Our goal is to work with families in order to not delay funeral plans.
How do I get copies of Coroner records?
A copy of the Coroner's report can be purchased at a cost of $15.00 and may be ordered by phone or in person. During regular business hours, call the Coroner at (805) 681-4145 to learn the cost of additional documents.
How do I contact the Deputy Coroner in charge of my loved one's case?
Contact the Coroner's Office Monday-Friday, 8 a.m. to 5 p.m. excluding holidays, and the staff will help you get in touch with the assigned investigator.
How do I reclaim property taken by the Coroner?
The Coroner may release property directly to the legal next of kin, or to any other person furnishing written authorization from the legal next of kin. Property is often released with the deceased to the funeral service making removal. Property release hours are Monday through Friday 8:00 a.m. to 4:00 p.m. excluding holidays.
How do I obtain a copy of a death certificate?
After the death certificate has been filed and the funeral director is no longer involved on behalf of the family, then certified copies of the death certificate are obtained from the Santa Barbara County Health Care Services, Office of Vital Statistics, Deputy Registrar at (805) 681-5150 for the current and previous year.
In those cases wherein the death occurred two or more years previous, certified copies of the death certificate are obtained from the Santa Barbara County Clerk-Recorder-Assessor, Vital Statistics Section at (805) 568-2251, 568-2256, or 568-2257.
Certified copies of death certificates may also be obtained directly from the California State Office of Vital Records and Statistics at (916) 445-2684.
For more information, questions or comments please contact the Coroner's Office.
Coroner's Bureau
66A South San Antonio Rd
Santa Barbara, Ca 93110
(805) 681-4145
Fax: (805) 681-4308
EMAIL: coroner@sbsheriff.org
Office Hours – Monday through Friday 8 am to 4 pm
Closed on Holidays and Weekends
Thank you to everyone at the Coroner's Office.   We all owe you a huge debt of gratitude for the challenging work you do and the personal sacrifices you make to provide this important service to our community.