Dispose of Your Unwanted Medication Safely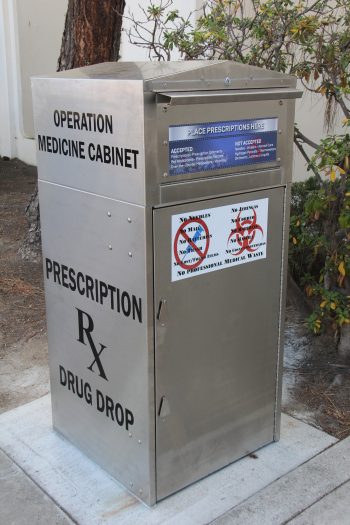 Operation Medicine Cabinet is a joint partnership between the Santa Barbara County Sheriff's Office and Santa Barbara County Public Works – Resource Recovery and Waste Management Division.  Operation Medicine Cabinet provides community members with a readily available and lawful mechanism for disposing of expired or unneeded prescription medications or illicit drugs.
The Santa Barbara County Operation Medicine Cabinet program has been in operation since 2010 and during this time, more than 40,000 pounds of unwanted prescription medications and illicit drugs have been collected and destroyed.  Removing these drugs from medicine cabinets across the county has prevented accidental ingestion, misuse, overdose, and has kept drugs from being introduced into our water supplies.
During the 2016 calendar year, the Operation Medicine Cabinet (OMC) program operated by the Santa Barbara County Sheriff's Office collected and destroyed 9,352 pounds of unneeded medications throughout Santa Barbara County.
Operation Medicine Cabinet drop-boxes are located at all eight Sheriff's stations located throughout Santa Barbara County.  The purpose-built drug collection kiosks are designed to accept unused and expired medication that is properly packaged for disposal.
Medicine should be in its original packaging if possible.  Loose pills and powders must be sealed in a Ziploc bag.  Absolutely no sharps of any sort should be placed in the drop-boxes.  To do so, jeopardizes the safety of the program and its important mission to safely dispose of medication in Santa Barbara County.
Expired and unused medications pose many risks.  Teenagers and young adults can abuse medications they find. Young children and pets can accidentally ingest medications found around the home, leading to potential poisoning.  Seniors can mistakenly mix incompatible medications or take expired drugs that may be harmful to them.
Medication that is flushed down the toilet or thrown in the trash can be harmful to the environment.  Wastewater treatment facilities are not designed to handle material often found in medications therefore they pass untreated into our water system.  Medications thrown in the trash can be picked up by individuals and pets when sent to the landfill and can potentially enter the environment.
The following items can be accepted: over-the-counter medications, prescription medications, medication samples, medications for household pets, medicated lotions or ointments, liquid medication only if in leak-proof container.
The following items can't be accepted: needles, hazardous waste and medical waste.  NO SHARPS!
The Operation Medicine Cabinet drop-boxes are at open 24-hours a day.  We encourage you to find the location nearest you.
Carpinteria: 5775 Carpinteria Avenue
Santa Barbara: 4434 Calle Real
Goleta: 7042 Market Place Drive
Isla Vista: 6504 Trigo Road
Lompoc: 3500 Harris Grade
Buellton: 140 W. Highway 246
Solvang: 1745 Mission Drive
Santa Maria: 812-A West Foster Road