Safe Medicine Disposal Kiosks Now Located Across Santa Barbara County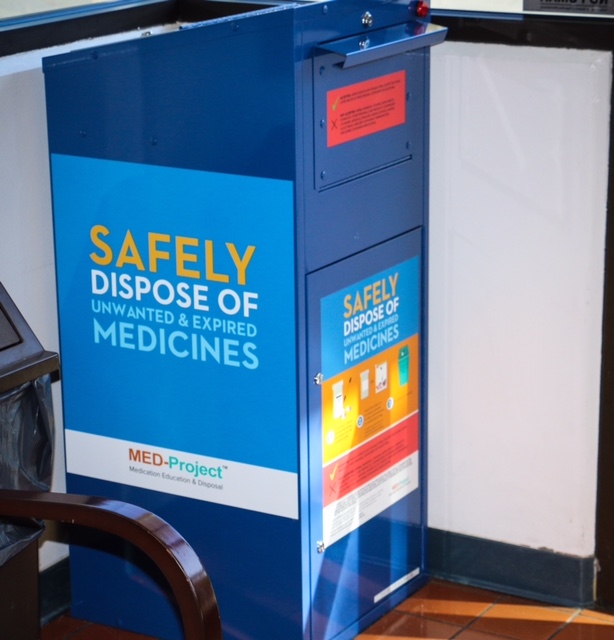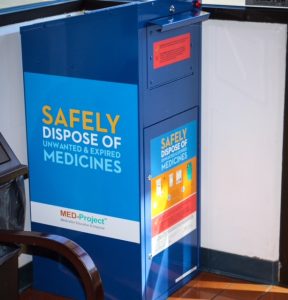 After eight years of helping Santa Barbara County safely dispose of more than 50,000 pounds of unwanted medicine and prescriptions through its Operation Medicine Cabinet program, the Sheriff's Office is pleased to inform our community members of a new stewardship program that is making the disposal process more convenient and efficient than ever before.   In March, Santa Barbara County MED-Project took over the medicine disposal program and has since installed kiosks at 18 locations throughout Santa Barbara County.  In the near future, the kiosks will also be installed in 15 CVS store locations in Santa Barbara County.  In accordance with Drug Enforcement Agency regulations for the program, the kiosks are located inside the facilities and are only accessible when the facility is open.
The program is paid for by the pharmaceutical companies that sell product here in our county and the service is provided free of charge to community members.  Disposal of medications in drop boxes assures medications are not misused by individuals who were not prescribed the medication. Collecting and destroying medication responsibly can also help reduce the number of opioid related tragedies. The program also ensures protection of the environment with the elimination of flushing unwanted medicines down the drain, or having them exposed to theft in the trash.
In June of 2016, the Santa Barbara County Board of Supervisors passed the Santa Barbara County Safe Drug Disposal Ordinance.  The ordinance requires any producer of prescription and over-the-counter drugs offered for sale in Santa Barbara County to participate in an approved drug stewardship program for collection and disposal of unwanted medicines.  The ordinance is based on the concept of Extended Producer Responsibility Stewardship (EPRS) which makes the product manufacturers fiscally responsible for the full costs of their products including disposal.  Santa Barbara County Environmental Health Services (EHS) oversees this program. Today, MED-Project has more than 300 kiosks in sites across Washington State and Northern California.
Here is the current list of Santa Barbara County kiosk locations which includes seven Sheriff's Office facilities:
| | | |
| --- | --- | --- |
| Sheriff's Headquarters | 4434 Calle Real | Santa Barbara |
| Santa Barbara County Mail Jail | 4436 Calle Real | Santa Barbara |
| Carpinteria Sheriff's Station | 5775 Carpinteria Avenue | Carpinteria |
| Isla Vista Foot Patrol | 6504 Trigo Road | Isla Vista |
| Solvang Sheriff's Station | 1745 Mission Drive | Solvang |
| Buellton Sheriff's Station | 140 West Highway 264 | Buellton |
| Lompoc Sheriff's Station | 3500 Harris Grade | Lompoc |
| Santa Maria Sheriff's Station | 812-A Foster Road | Santa Maria |
| San Ysidro Pharmacy Inc | 1498 E Valley Rd | Montecito |
| Medicine Shoppe No 793 | 3605 State St | Santa Barbara |
| Sansum Clinic Prescription Rx | 317 W Pueblo St | Santa Barbara |
| Santa Barbara Police Department | 215 East Figueroa St | Santa Barbara |
| SBC Public Health Pharm SB | 345 Camino Del Remedio | Santa Barbara |
| Lompoc Valley Medical Center | 1515 East Ocean Avenue | Lompoc |
| SBC Public Health Pharm Lompoc | 301 N R Street | Lompoc |
| Stars Pharmacy | 830 Guadalupe Street | Guadalupe |
| Hometown LTC Pharmacy | 1450 West Mc Coy Land # B | Santa Maria |
| La Joya Pharmacy | 1115 West Main St Ste E1 | Santa Maria |
| SBC Public Health Pharm Santa Maria | 2115 Centerpoint Parkway | Santa Maria |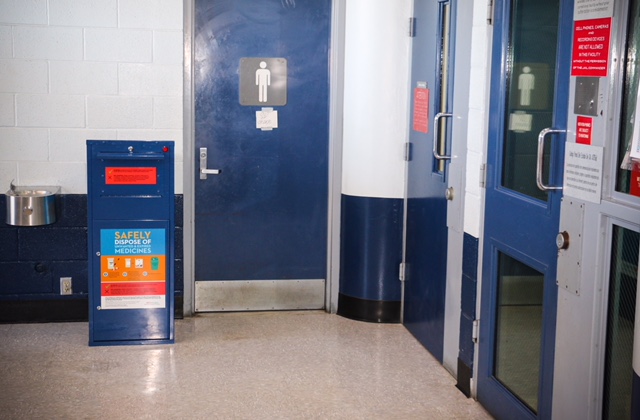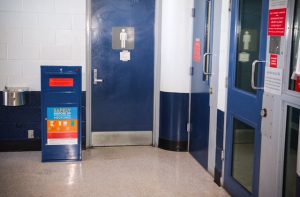 The link to Santa Barbara County EHS safe meds disposal page is:
https://www.countyofsb.org/2248/Pharmaceutical-Waste
For more information on MED-Project go to: https://med-project.org/locations/santa-barbara/
The Sheriff's Office wants to thank everyone who was a part of our successful Operation Medicine Cabinet program, which was started in 2010.  While we are proud of the efforts that went into this important endeavor, we are pleased there is now an improved and more accessible medicine disposal program for our community members.