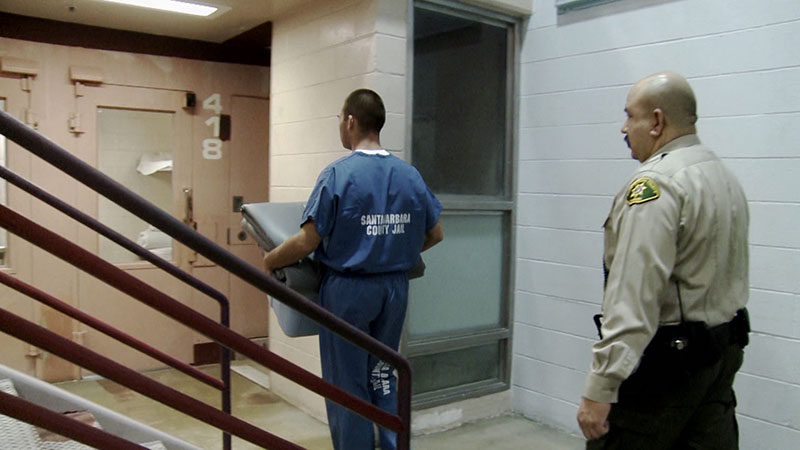 Booking
When individuals are arrested, they are usually taken to a local police station where they may be interviewed, and where necessary reports and forms are prepared. If the individual is arrested for driving under the influence, a breath, urine, or chemical blood test will be conducted. This process can take as long as four hours before the person is brought to a county jail to be booked. Since a good deal of time may pass before the jail system has any notification of a person's arrest, if you call shortly after your friend or loved one is arrested you may find that they are not yet in the jail system. Do not be concerned by this delay, because the pre-booking period is routine and necessary.
When arrested individuals arrive at the jail facility, they go through the intake process before being housed in the inmate population. Intake is comprised of several steps which include medical screening, the booking process and the classification interview.
Immediately upon arrival at the jail the inmate is examined for any medical conditions that need immediate treatment. A nurse conducts a private screening to make sure the inmate is not injured or in need of immediate medical treatment. A second medical examination is conducted later in the booking process to ensure all conditions that an inmate may have are properly noted and that the facility is capable of meeting the inmate's medical needs.
During the booking process all inmates are searched to make sure that no contraband is being brought into the facility. They are photographed and fingerprinted. Their personal information and charges are entered into the computer system, their bail is calculated, and a court date is set.
Some inmates may be eligible for release on their own recognizance very soon after booking. Intoxicated inmates will be held for up to 12 hours, and sometimes longer, to ensure they are sober enough to be safely released. Most inmates are eligible for bail, and they have access to telephones to arrange bail through friends, family, or bail agents. A list of bail agents is available in each facility. When it is determined that inmates will not be released on their own recognizance or make bail, they are given a classification interview and their housing criteria are determined.
Classification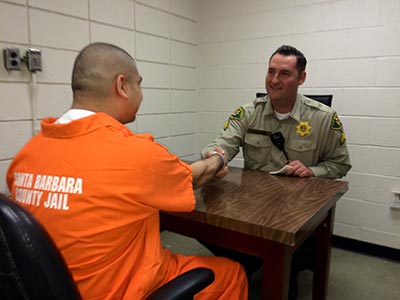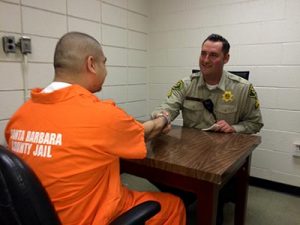 The Classification staff considers a number of objective risk factors in determining the custody level of an inmate. These factors, such as violence, criminal history, previous escapes, and institutional behavior problems, establish the relative degree of risk posed by that inmate. The purpose of Classification is to house inmates of similar classification together in order to minimize the risk of conflict between inmates. Proper classification also allows us to house inmates in the facilities best suited to their level of risk.
The Classification Deputy plays an integral role in inmate housing and maintaining facility safety and security. When it has been determined that an arrestee will remain in custody, the Classification Deputy will initiate a search for the following information: Criminal History, previous classification records, any documentation supporting gang association or affiliation, relevant information obtained from other sources such as other county jails or state prison records.
Typically, a Classification Deputy will conduct classification interviews with inmates and objectively determine appropriate and housings, conduct re-classification reviews and assignments as needed, conduct cellmate compatibility reviews and make appropriate housing placement, reassignment and other changes, identify gang membership, utilize resources to assist in the prevention of crimes within the facility and work in conjunction with local agencies developing point of contact leads for more effective use of intelligence resources.
Inmates also have access to posted rules and information which provide guidelines for inmate behavior, as well as informing them about visiting, mail, contraband, security violations, inmate grooming, telephone calls and religious programs.
While in custody, inmates may be interviewed by various professional staff members. Interviews are sometimes conducted, depending on need, by correctional counselors, psychiatrists, drug and alcohol treatment specialists, chaplains, educators and medical staff, who together help to determine the services and programming appropriate for each inmate.
Inmates with Disabilities
Inmates may request accommodation of a disability during the intake medical screening, the medical interview, or at any other time by submitting an inmate request.