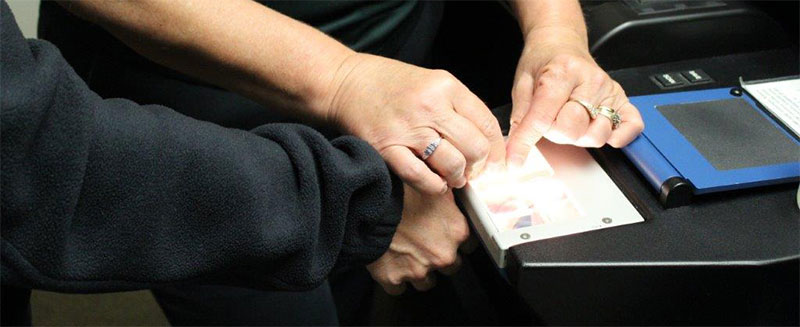 Fingerprinting services are performed by Forensics personnel whose first priority is the processing of criminal cases. Live Scan applicants should be aware that there is a possibility of delays due to call-outs and coverage. Also, system failures will occur due to the computer system. In the event there are delays, you will need to re-schedule your appointment.
General information
Live Scan fingerprint stations are available to assist the public for the purposes of pre-employment. Live Scan has the ability to digitally transmit your fingerprints to the California State Department of Justice. They will then review your criminal history and send the findings back to the requesting agency.
Required Documents
The applicant must have the Live Scan form and the information filled out completely before the scheduled appointment. If not completed he/she may be turned away and may have to wait or reschedule for a later date. If an applicant is to be Live Scanned for multiple items, a separate form is required for each item.
Photo ID
Every applicant must be in possession of a valid form of photo ID to be Live Scanned or fingerprinted. Note: Only a Driver's License, State ID Card, Passport, or other Government issued ID will be accepted. Student IDs, temporary DMV printouts or similar IDs will not be accepted.
Schedule Live Scan Appointments
We are unable to accept walk-in appointments.
The Request for Live Scan Service Form must be completed by the agency or person who is requesting you to be fingerprinted prior to you booking an appointment.
Appointment availability is as follows:
Monday through Thursday:
8:30 a.m. – 11:30 a.m.
1:00 p.m. – 4:00 p.m. (last appointment is at 3:30 pm)
To schedule an appointment, please call:
Santa Barbara Station (805) 681-4357 or Santa Maria Station (805) 934-6175
What is the cost for a Live Scan?
Our Live Scan rolling fee is $7. DOJ and FBI fees are additional. Other fees may apply if mandated by the Applicant's requesting agency.
Payment methods: Cash only.
Santa Barbara Sheriff's Office
4434 Calle Real
Santa Barbara, CA 93110
(805) 681-4357
Santa Maria Sheriff's Office
812 W. Foster
Santa Maria, CA 93455
(805) 934-6175