Lieutenant Jarrett Morris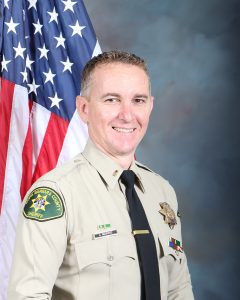 Lt. Morris oversees the station which is made up of deputies and officers who work cooperatively to make a positive difference in the Isla Vista community.
Lt. Jarrett Morris was born and raised in Santa Barbara County, graduating from Cabrillo High School in 2001. He received his Bachelor of Science degree in Criminal Justice Administration from Union Institute and University in 2014.
Lt. Morris was hired by the Sheriff's Office in 2005 as a Custody Intake and Release Specialist. Two months later, he was appointed to Corrections Officer. In 2007, he became a Sheriff's Deputy, and in that role, he worked multiple station assignments, including Isla Vista Foot Patrol, Goleta, Santa Maria, and Lompoc. In 2009, he was appointed to the Special Investigations Bureau, where he worked as a gang enforcement and narcotics detective.
Lt. Morris was promoted to Sheriff's Sergeant in 2018, where he was assigned to Carpinteria and Goleta. In 2019, he was assigned to the Sheriff's Coroner's Bureau, where he oversaw death investigations during the Conception Boat Fire and COVID-19 pandemic.
Throughout Lt. Morris's career, he has received multiple accolades, including Deputy of the Year, Supervisor of the Year, the Meritorious Service Award, and the Medal of Courage. He was also a recipient of the Outstanding Law and Order Individual Award from the Military Order of World Wars. Lt. Morris is a published writer on PoliceOne.com and the International Symposium on Human Identification.
I.V.F.P. Sheriff Station
6504 Trigo Rd .
Isla Vista, CA. 93117
Phone #'s: (805) 681-4179
Dispatch non-emergency (805) 683-2724