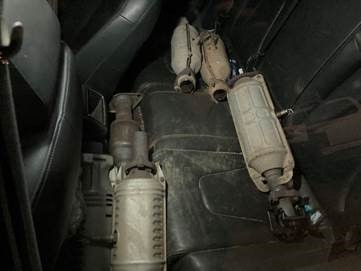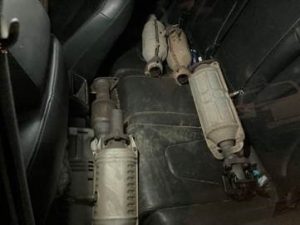 Orcutt, Calif. – Sheriff's deputies arrested one of two suspects for theft of catalytic converters and recovered several stolen converters. On Wednesday, March 23, 2022, at 3:27 in the morning, Santa Maria patrol deputies were dispatched to the 900 block of Diamond Drive for a report of two subjects stealing a catalytic converter. The reporting party heard "tinkering sounds" and looked outside to see a theft in progress. The reporting party called 911 to report the incident.
A few minutes later, deputies noticed a vehicle matching the description of the suspect vehicle in the 700 block of Spencer Drive. Prior to a traffic enforcement stop, the suspects parked the vehicle and quickly fled the area. A perimeter was established and with the assistance of the CHP one of the suspects was located on Cherry Avenue. When deputies looked into the suspect vehicle, they observed several catalytic converters in the backseat. During a search of the vehicle, a car jack, and other tools were located. Deputies arrested one of the occupants, 31-year-old Xiong Vue from Merced. He was booked into Santa Barbara County Main Jail for possession of stolen property and being under the influence of a controlled substance with bail set at $20,000.
The Sheriff's Office would like to acknowledge the quick thinking of the reporting party who called 911 when they realized they were likely hearing a catalytic converter theft. The theft of catalytic converters is popular because they can be easily removed, they do not have identifying marks like serial numbers, and the components are made up of precious metals that can be resold to recyclers. There are steps that can be taken to thwart these thefts including; parking inside a garage or secured yard, installing motion detector lights near parking areas, installing a catalytic converter protection device, and educating neighbors to be on the look-out for thieves.