Santa Maria, Calif. – On Thursday, May 5, 2022, detectives from the Sheriff's Office Cannabis Compliance Team concluded a proactive investigation into a subject selling marijuana illegally in Orcutt and the surrounding area. Detectives served a search warrant at the suspect's home in the 200-block of N. Smith Street in Santa Maria where the suspect, 28-year-old Angel Reynoso-Juarez, was arrested without incident.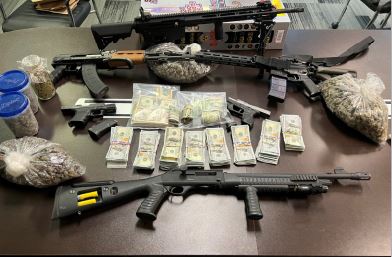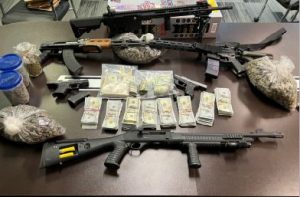 During a search of Reynoso-Juarez's residence, detectives located over two pounds of processes marijuana, over $80,000 in cash and numerous firearms, two of which were illegally possessed assault weapons. One of the assault weapons did not have a serial number which is commonly known as a ghost gun.  Reynoso-Juarez was booked at the Northern Branch Jail for possess of marijuana for sale (misdemeanor), transportation of marijuana for sales (misdemeanor), conspiracy (felony), possess of an assault weapon (felony), and manufacturing a short barreled rifle (felony). Reynoso-Juarez was later released with a citation pursuant to the local court's extension of Emergency Rule 4.
The Santa Barbara County Cannabis Compliance Team was founded in June of 2018 and consists of personnel from many disciplines within a variety of county departments. The team primarily focuses on unlicensed and illegal cannabis operations within the county and the safety of the public. Following the approval of Proposition 64, recreational marijuana is legal. However, the law requires any person or business selling or providing marijuana to be licensed through the State of California to ensure the sale of approved and tested cannabis products with regulated and identified THC content. 
 Additionally, the County of Santa Barbara requires that cannabis businesses must possess local land use permits and local business licenses if the operations are in the unincorporated parts of the county. More information on the state licensing and testing process can be found on the CalCannabis or Bureau of Cannabis Control websites. For information on local permitting and licensing, please visit cannabis.countyofsb.org.