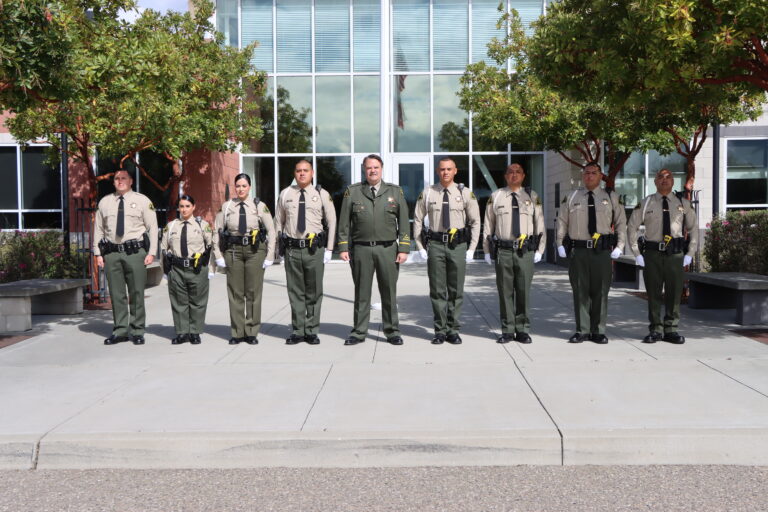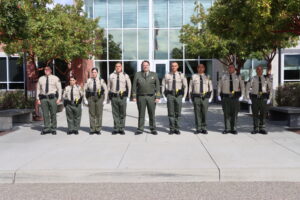 Lompoc, Calif. – The Santa Barbara County Sheriff's Office welcomed a new Sheriff's Deputy (previous POST academy graduate) along with seven new Custody Deputies just prior to their graduation from the Allan Hancock CORE Custody Deputy Academy. On Friday, May 5, 2023, Sheriff Brown lead a swearing-in ceremony for Sheriff's Deputy Brent Farmer along with Custody Deputies Javier Aguilera–Mendoza, Alexis Cervantes-Rodriguez, Jaemi Patacsil, Stephanie Rodriguez, Vanessa Stefono, Jonny Torres, and Maleik Wright. The ceremony, which marks a beginning milestone in each deputies' career, was shared with their close family members and included a badge pinning ceremony where recruits have their badges pinned on their uniforms by their mothers, fathers, and significant others. This shared moment marks the culmination of over six months of hard work by the recruit and unwavering support from the family members who stood by them.
Shorty after the swearing-in ceremony, the new custody deputies, along with their classmates graduated from the Allan Hancock CORE Custody Deputy Academy. The class of 9 recruits completed 243 hours of instruction. Some of the instruction included emergency planning in a custody facility, report writing, ethics, investigation procedures, classification of inmates, contraband detection, arrest and control, physical training, and Direct Supervision training.
Custody Deputy Rodriguez earned Class Valedictorian and the Santa Maria Elks Lodge Leadership Award and, and Custody Deputy Torres was presented the Ron Battles award from the Deputy Sheriff's Association.
If you are interested in career in law enforcement or know someone who is, please visit our website at SBSheriff.org to apply.